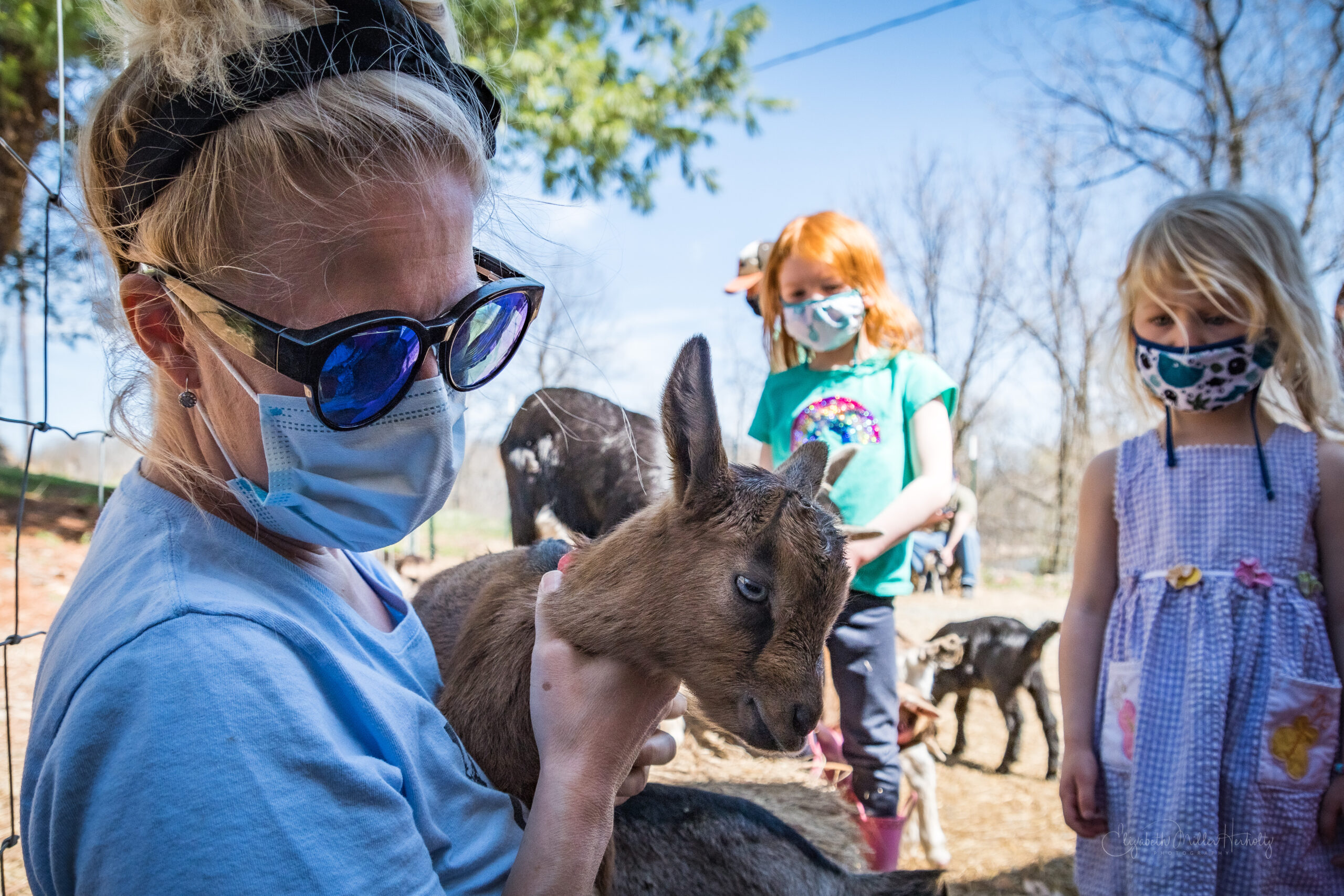 George's Mill Farm – A Taste of Place
After a visit to George's Mill Farm Artisan Cheese, you will leave with both a sense of place and a taste of place. George's Mill is a "Century Farm," so named for its continuous operation by the same family for more than 100 years. Located at the foot of the Short Hill mountains in the northwestern corner of Loudoun county, the farm was first owned by John George in the mid-1700s and has been owned by his descendants ever since.
Today, four generations of the original family live on the property, which now includes a working dairy farm and artisan cheese business, on-site farm store, bed-and-breakfast, and agro-tourism. The historic stone house, which operated as a bed-and-breakfast before Covid-19, is run by Fran Wire and her family. They hope to open its doors again soon and continue the tradition of welcoming new friends to the farm.
Fran's grandson, Sam Kroiz, and his wife Molly are the eighth generation of the George family on the property and are part of a new wave of young people committed to homesteading. The couple met in Alaska and soon found their shared interest in farming. They followed their passion and listened to the pull of Sam's ancestral roots to fulfill Molly's desire to produce healthy, sustainable food.
Molly and Sam raise Alpine dairy goats and make artisanal goat cheeses and products. They are passionate about the goats' diet coming from the land. Goats are considered browsers for their preference for eating at chin and eye level. They enjoy roughage, so they will strip shrubs and trees of leaves and twigs with a preference for honeysuckle and poison ivy before they'll turn to grass. Molly and Sam keep about 70 goats in their herd, browsing about 80 acres of land.
One of the highlights of touring the farm is in March and April, during kid season, when the baby goats arrive on the scene and really liven things up! Make a reservation to cuddle and bottle feed the newest arrivals, some just hours old, and all looking for milk, a lap and a hug. Molly said their baby goats are bottle fed with their mother's milk for about five months, though the baby goats start to supplement their diet with leaves, grass, and hay when they're just two weeks old.
While you're still beaming from the thrill of being with the kids, stop in the farm store, which runs on the honor system and is open 24 hours each day. You'll find an array of products made from the nutritious goat milk, like chèvre, skyr, feta, caramel sauce, fragrant soaps, as well as eggs from their laying hens and various meats from their whey-fed pastured pork. You can also add to your purchase a donation that is used to help feed those in need around the community.
"Farmstead cheese is a unique product. We birth, raise, and milk the animals, then make the cheese. When you eat our cheese you are getting the true taste of place of our farm," Molly said.
Learn more and plan your visit to George's Mill Farm Artisan Cheese at www.georgesmillcheese.com. Follow them on both Facebook and Instagram. Look for them at local shops, farm stands, and select breweries, wineries, and eateries in and around Loudoun county, as well as Falls Church and Takoma Park farmers markets.
---
By Beth Miller-Herholtz