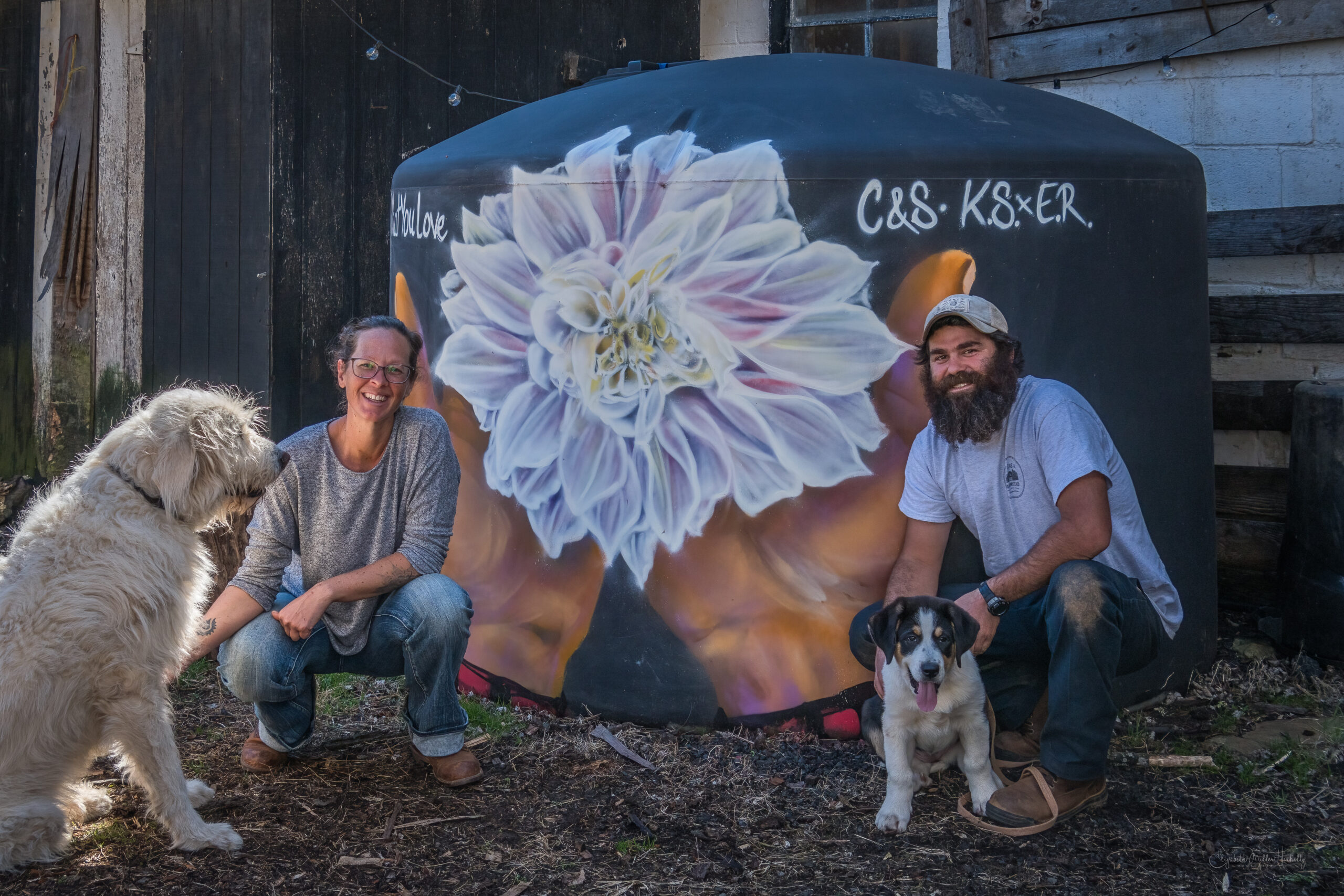 C&S Farmstead: Flower Farming at its Finest
When I first met Sharla Bond and Clyde Kessler of C&S Farmstead, it was on a spring-like day in February. We stood under the shade of a tall oak near a barn with open windows and deep shadows that stretched through the center of the building, leading the way to a greenhouse. A beautiful mural of a dahlia welcomed me with the greeting, "Protect what you love." As we talked softly, I admired the view of Bull Run Mountain and felt a gentle nudge of affection from Hank, their Komondor/Anatolian Shepherd.

We looked out over the fields nestled between farmsteads that have been in the Elgin family since 1790. Clyde described how he came to know them, having grown up in Purcellville with a shared interest for farming; and now, he is almost a member of the family thanks to a wedding between other family members that brought them even closer. What was a large dairy farm is now a small cattle farm, one that welcomed the addition of Sharla's dream of flower farming.

We walked between the tidy rows as they pointed to new growth starting to emerge. I think we could all imagine what those fields would look like in growing season, when tulips, ranunculus, roses, and dazzling dahlias would dot the scene with bright colors, reaching for the sun and dancing in the breezes. In winter, though, the duo focuses on prepping the bulbs and sowing the seeds that will become the gorgeous, sustainably grown flowers that grace special events throughout the Northern Piedmont.

Sharla and Clyde met while both working in the California farming industry. She has worked in the fields as well as in the floral design shops, so she knows flowers from seed to stem to centerpiece. It's a passion that has flourished over two decades, and one that has evolved into a practice based on the Slow Flower Movement. I learned that an estimated 80% of all flowers sold in the U.S. are imported. When you think about the logistics behind that statistic—from chemicals used to preserve the flower to the shipping containers and fuel costs—you begin to reconsider what you choose to put in an arrangement.

Inspiration at C&S Farmstead begins season by season, growing what is best for the natural cycle of a year. They started with rows of 100 feet before expanding to rows of 300 feet and eventually to 600 feet. Everything is planted and maintained by hand (they have the callouses to prove it!), and most importantly, everything is grown free of pesticides.

You can find the beautiful bouquets at the Buchanan Hall Farmer's Market, which is held on Wednesdays 4:30 – 7:30 pm May – October. For special events and weddings, contact Sharla at CSFarmstead@gmail.com. You can also find their flowers at Metro Flower Market in Chantilly. Follow them on Instagram @csfarmstead to see their work in action.
---
Story by: Beth Miller-Herholtz | Photo by: C&S Farmstead