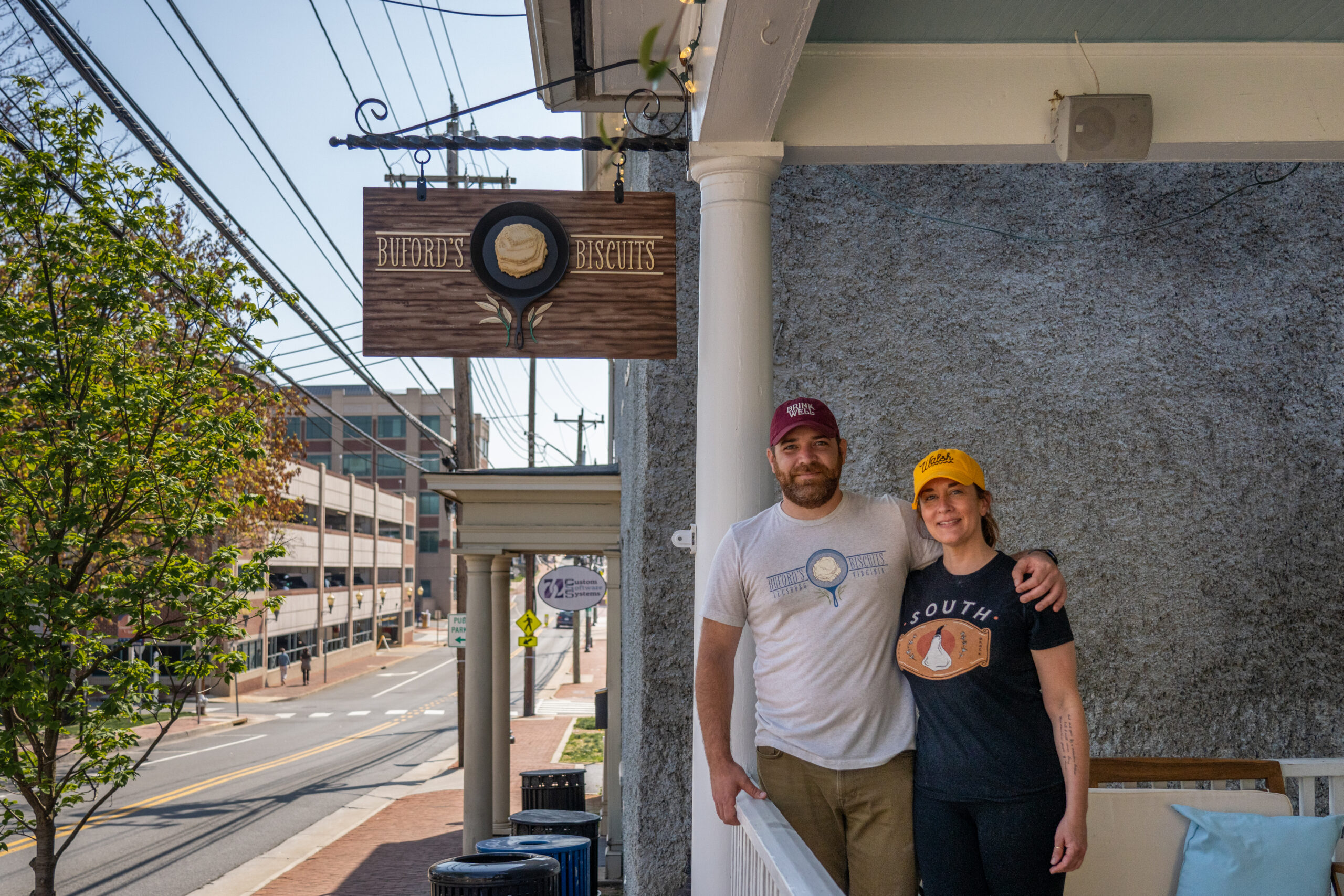 The first thing you might notice about Buford's Biscuits is the line out the door on the weekends where they often sell out to their growing loyal customer fan base.
Begun just eight months ago, mid-pandemic, by partners Charles Schech and Lauren Barrett, a new-wave Southern-style homemade biscuit sandwich shop in downtown Leesburg, Buford's blends Appalachian style cuisine with farm-to-table fresh ingredients. From Misty Meadow Mushrooms, Mr. Baker Sausages, and Edwards Ham to Whiffletree Farm eggs, Lost Corner Farm collard greens, and Beechwood Orchard honeycrisp apples to Longstone Farm pork belly, Boon Farm short ribs and even sea salt from the ancient oceans of West Virginia, every ingredient comes from local farmers and dishes are served on local pie tins from Fortessa Table Solutions in One Loudoun.
Charles and Lauren met almost twenty years ago through mutual friends but have wanted to open a restaurant for nearly a decade. They have both previously worked for The Wine Kitchen and credit the owner, Jason Miller for instilling in them the importance of sourcing locally grown foods from nearby farms to run a restaurant the right way.
Biscuit sandwiches are incredibly popular in the South, and the two wanted to bring the regional staple to Northern Virginia for all of us to enjoy. After a night of brainstorming with friends about a name, they landed on Buford's Biscuits, honoring Lauren's father, Buford Barrett, who was the Air Force One pilot for Presidents Ronald Reagan and George H. W. Bush.
The oversized biscuits come in standard flour-based and gluten-free versions, plus Buford's offers eight signature sandwiches. Sides include homemade potato salad, collards greens, a gravy flight which supports 6 local businesses, a seasonal jam flight which rotates jams and jellies such as apple butter, grape jam made from October 1 Vineyards cab franc grapes and strawberry jam. And in yet another delicious twist of authenticity, the chicken is marinated in a sweet tea brine for the Nashville Hot and the Buford's Biscuit.
They also offer Loudoun County only wine partnering with Walsh Family Wine and VA only beer. Spirits are local as well with Catoctin Creek Distillery and Blue Ridge Vodka.
On why supporting local matters to them so much, Charles said, "We love to see the farmers come in with mud on their feet, fresh off the farm, and getting to talk directly with them at the farmers market every weekend where we go to source local, fresh ingredients for our guests to experience a truly local, fresh, delicious biscuit sandwich."
---
By Matt Coyle