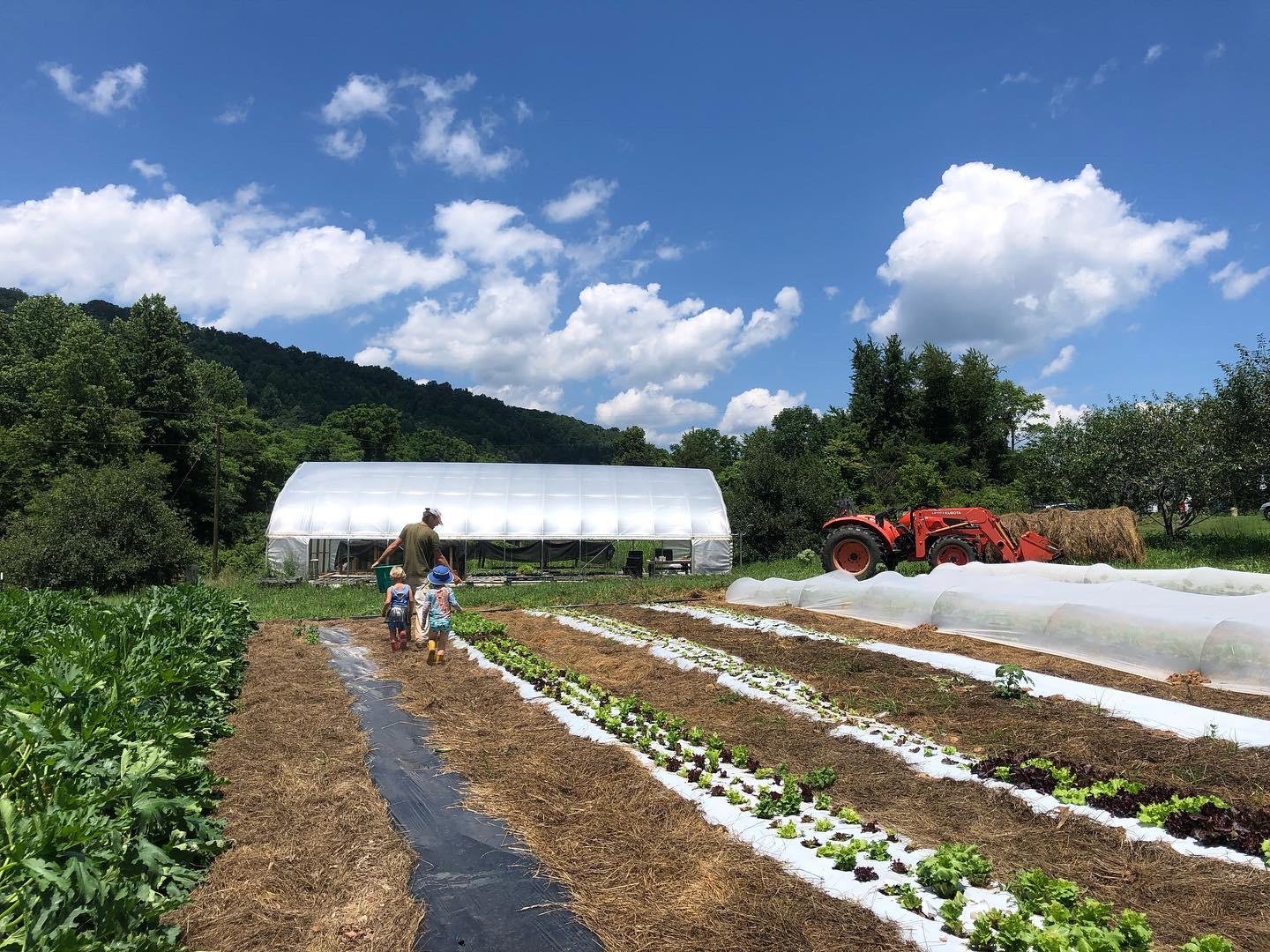 Little Hat Creek Farm: Connection Forged Through Food
The line that spreads into the flow of traffic at the Little Hat Creek stall at the IX Park Farmers Market in Charlottesville says it all. Customers crane their necks to see if their beloved Danish rye bread or braided pretzel croissant has sold out yet, with their arms full of garden shoots, greens, squashes, and root vegetables from the diversified ecological vegetable farm and wood-fired bakery operation.

This farmer's market type of love grew out of owners, Heather and Ben's own connection. She had spent her grad school years baking and delivering bread as a type of therapy and he had been wanting to start a farm following his experiences working on Waterpenny Farm in Sperryville. After meeting at an old time music festival and staying in touch, in a proposal that started it all, he said they should do farmer's markets together.

Ten years later, they've been busy expanding their farming and baking space, their markets, and their family. They believe strongly in the power of community, growing from the land they are on, and are passionate about both being and supporting other local businesses. Their formation of the Common Grain Alliance, a collective that seeks to revitalize the grain economy in Virginia and the Mid-Atlantic, is just one example of this.

Like you, Heather uses her purchasing power to buy local, baking 100% of her dry goods (crackers, cookies, and granola) and up to 35% for her naturally-leavened breads from Mid-Atlantic grains. Instead of milling themselves, they utilize the historic and naturally hydro-powered Woodson's Mill near their farm to do the majority of the milling.

Being regionally-minded in this way, brings them back to basics in farming too. Just as they want the wheat they source to be grown sustainably in combination with other crops like buckwheat, millet, and rye, they want their own vegetables to be grown using farming practices that enrich the soil instead of depleting it as is common in industrial agriculture operations.

Ben uses cover crops such as hairy vetch and sorghum-sudangrass and hay mulch to cultivate a vibrant soil microbiota. This effort also replaces tilling as a natural way to prepare the soil.

"You're feeding soil biology," he says of the cover cropping and mulching. "All the roots are doing things that are invisible to us, but they're doing things with the little microbes and they're keeping them happy and then you till and you disrupt it. Bare soil is like soil in agony."

This season, Little Hat Creek is looking forward to working with their talented, returning staff, and eating really good food. You can find them at the IX Art Park Markert in Charlottesville, the Lexington Market in Lexington, and the Nelson Market in Nellysford or at littlehatcreek.com.
---
Story by: Faith Schweikert | Photo by: Heather Coiner