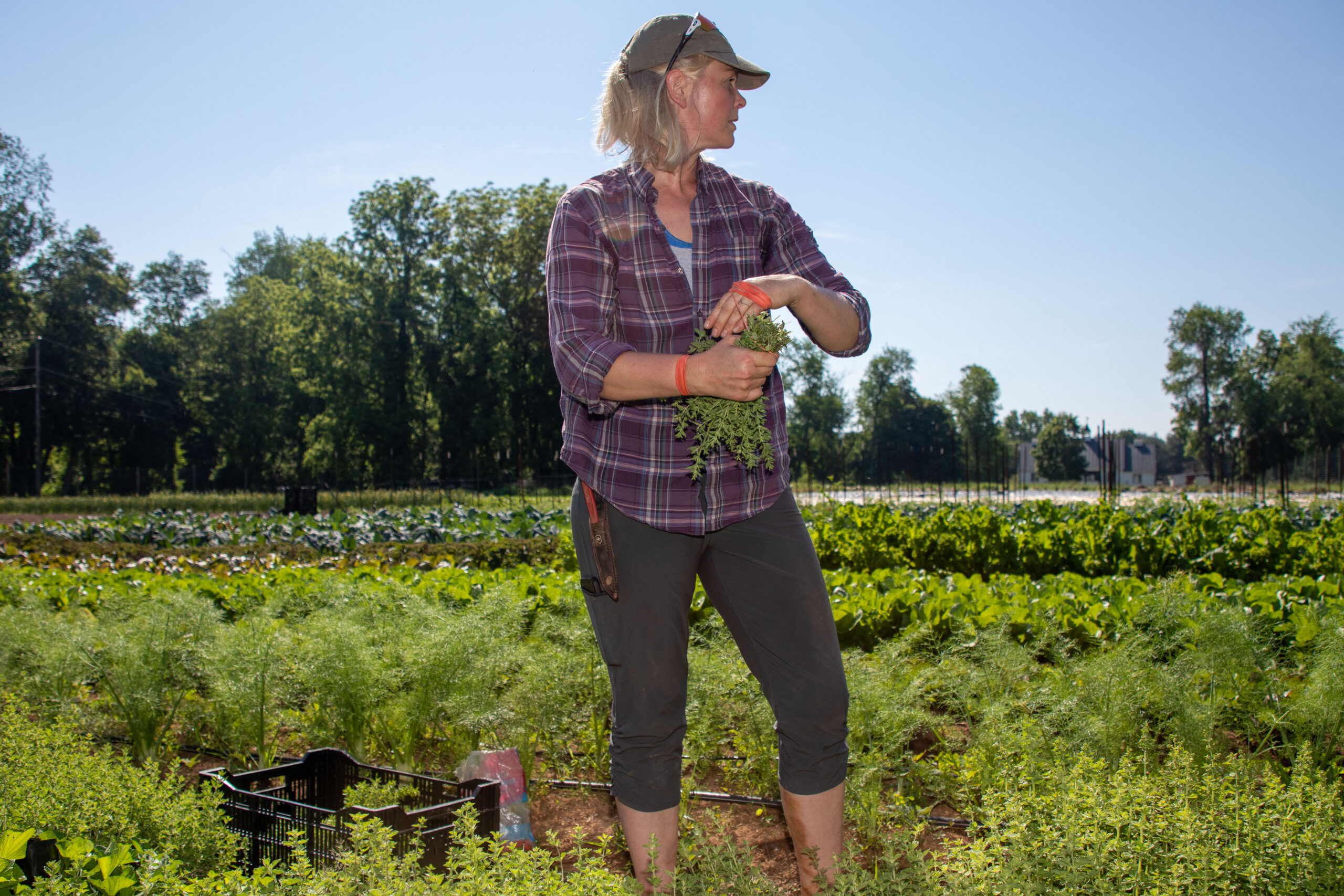 Pam Jones and Sarah Waybright met in 2017 while working at Potomac Vegetable Farm, where they quickly bonded over a shared passion for fresh, nutritious food. Pam, a two-time Paralympic gold medalist in rowing, knew that fueling herself with high-quality, pesticide-free produce was key to performing at her peak. Sarah, a dietitian, had worked for years to connect clients to local, responsibly grown produce.

So just six months after meeting, they decided to start Gathering Springs Farm on Pam and her husband's property just north of Middleburg. They focus on growing vegetables using regenerative, low till methods that produce the most nutritious and delicious vegetables possible, while continually revitalizing the soil and building a community around food.

"Now we're entering year five, which I see as the beginning of the second phase, we're not just constantly building and finally have time to actually do the thing," Sarah said. Looking ahead toward that second phase, the pair hopes to refocus their efforts on building community around their farm and the food they grow. They plan to host frequent events ranging from farm tours to classes for dieticians to pottery workshops in the coming year that allow people to learn more about food, but most importantly, to just celebrate it. "Food is something that really has the power to bring people together. If you go back to both of our introductions to farming, it's centered around food. Be it eating food or preparing food or learning about food, it brings us a heck of a lot of joy."

Gathering Springs Farm sells its produce at a number of farmers' markets in the area and through its community-supported agriculture (CSA) program. "If it weren't for the CSA, we wouldn't really be able to do the season. Folks give us their subscription payments ahead of when the program starts which allows us to buy seeds and fertilizer and to put diesel in the tractor. It's the thing that just ticks the farm along," says Pam.

The CSA runs for 23 weeks, from June to October, and includes optional add-ons of cheese, coffee, bread, and mushrooms from other small local businesses. Membership also includes a weekly newsletter with recipe ideas and food preservation tips.

Knowing that the inflexibility of pickup times and locations can be a barrier for many folks who are interested in signing up for a CSA program, Gathering Springs tries to make getting a weekly share as convenient as possible. They offer multiple pickup locations throughout the week, including at farmers markets in Ashburn and Reston, Bull Run Mountain on Mercer Road, and onsite at the farm.

Learn more at gatheringspringsfarm.com and be sure to follow them on Instagram @gatheringsprings to stay up to date with everything going on at Gathering Springs Farm.
---
Story by: Hugh Kenny | Photo by: Nick Middleton Photography