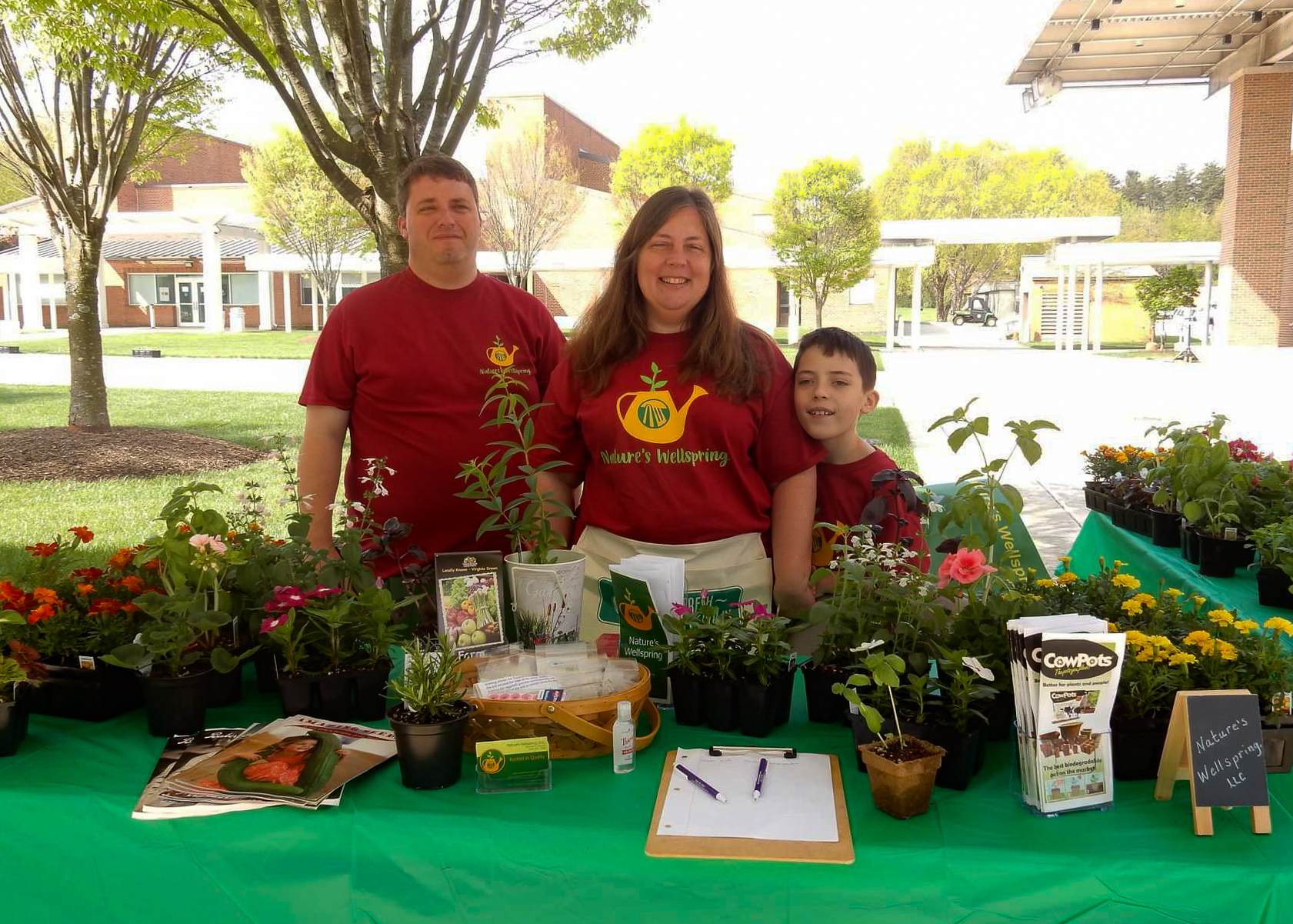 James and Nichole Brown created their online organic plant and garden supply business with one goal in mind: to help others find wellness using the gifts of nature. Their journey has been a personal one. When Nichole developed a life-threatening food allergy, they found that growing their own produce was instrumental to their own family wellness. Now, by making allergy-friendly, nature-based products available to their customers through their farm Nature's Wellspring, the Browns are committed to empowering their customers to grow healthy food for themselves in their own gardens.
They recommend the use of natural, non-GMO heirloom seeds, which they use (and sell) to start their custom-grown plants and herbs, and follow only organic, sustainable farming practices. James is a certified Square Foot Gardener and can provide instruction on how to create a garden sized to meet an individual needs. The square foot gardening method, which emphasizes the use of partitioning growing plots into small areas, is easier on both the environment and on the gardener. It's estimated to cost 50 percent less and use 20 percent less space and 10 percent less water than traditional row gardening. And with no digging, tilling, or using heavy tools, it's much less work, too. Square foot gardening is accessible to everyone.
Nichole's expertise with specialty cut flowers can be seen throughout the community in the flowers Nature's Wellspring makes available to many of our local florists. Their beautiful blooms can be seen when walking around Eva Walker and Rady parks or working with Families for Fauquier. Nichole is happy to grow to order, too, so feel free to make special requests, as one Realtor did when she provided lemon trees for new homeowners.
Like many small farms, Nature's Wellspring has adapted to the changing times in addition to customer needs. Herbs and seasonings will be added to their offerings soon, which already include local honey, artisan soaps, and homeopathy items. Both James and Nichole see a need to help educate young people, so they've also added the Wildcraft herbal adventure board game to their tool shed. All of their products and services are listed in their online store at https://squareup.com/store/natures-wellspring/.
Nature's Wellspring is a certified, service-disabled veteran-owned and woman-owned small business with the added designation of "Homegrown by Heroes." After serving in the U.S Navy for 20 years, James found the stress-relieving benefit of "grounding" and, literally, putting his fingers and toes in the soil. James and Nichole can be found at the Nature's Wellspring booth at the Warrenton Farmers Market, online at natureswellspring.com, and in social media on Facebook and Instagram under username @natureswellspring.
---
by Beth Miller-Herholtz