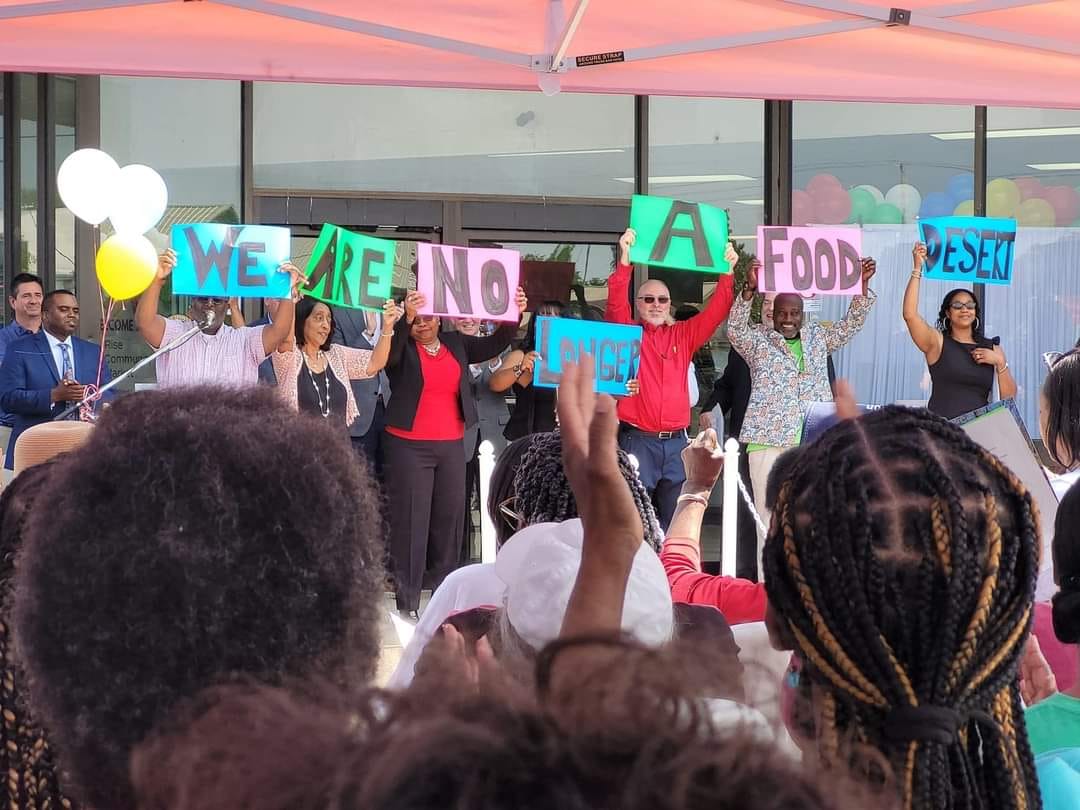 Hope Rises in Cairo Around New Food Co-Op
October is National Co-op Month. To celebrate, we share the uplifting story of Rise Community Market in Cairo, located at the southern tip of Illinois.
A food co-op is a grocery store that's owned and managed by people who shop there. Co-ops are owned by individuals, mostly local residents who purchase shares that fund the buildout and operations of each store. These owners get to vote on the store's board of directors and have a say in how the store is run, what products it carries, and what values it conveys.
Rise Community Market in Cairo, isn't a typical co-op. Cairo has suffered mightily from economic and population decline, and the city was a food desert — the nearest store selling food was eight miles away, and a full service market was 30 miles, — for the 7-½ years before Rise opened in June.
A Store — and Hope — Rises in Cairo
Most member-owned cooperative grocery stores around Illinois and beyond appeal strongly toward a clientele seeking food that is produced as locally as possible. The new Rise Community Market, in Cairo at Illinois' southern tip, is a different kind of co-op serving different kinds of needs.
Rise opened this past June as the first grocery store in Cairo since late 2015, restoring food and hope to the once-thriving city. As the city's vital river trade gave way to highways and air freight, Cairo's economy collapsed and so did its population, shrinking from a peak of more than 15,000 a century ago to 1,733 in the 2020 census; and the per capita income in 2020 was a near poverty-level $19,616.
During its 7+ years as a food desert, the nearest, small food store was in Mound City, eight miles away. For a full-service market, residents had to travel 30 or more miles out of state to Cape Girardeau, Missouri or Paducah, Kentucky. This forced residents who did not have a car to rely on those who did just to obtain food for themselves and their families.
So, if the products on shelves at Rise Community Market largely resemble those at a conventional supermarket, that's fine with the customers who had to do without the basics for so long. "We're going to look more like a typical grocery store than your typical co-op," said Robert Edwards, the veteran supermarket manager who took on what appeared the daunting task of bringing Rise to life.
Edwards added, though, that Rise observes the traditional values of co-op stores as much as it can. "There's still a wall shelving made-in-Illinois products and black-owned businesses," he said. "There's a whole section for the type of stuff that you wouldn't find in your normal grocery store around here. And then, wherever possible, local farmers are still our preferred source."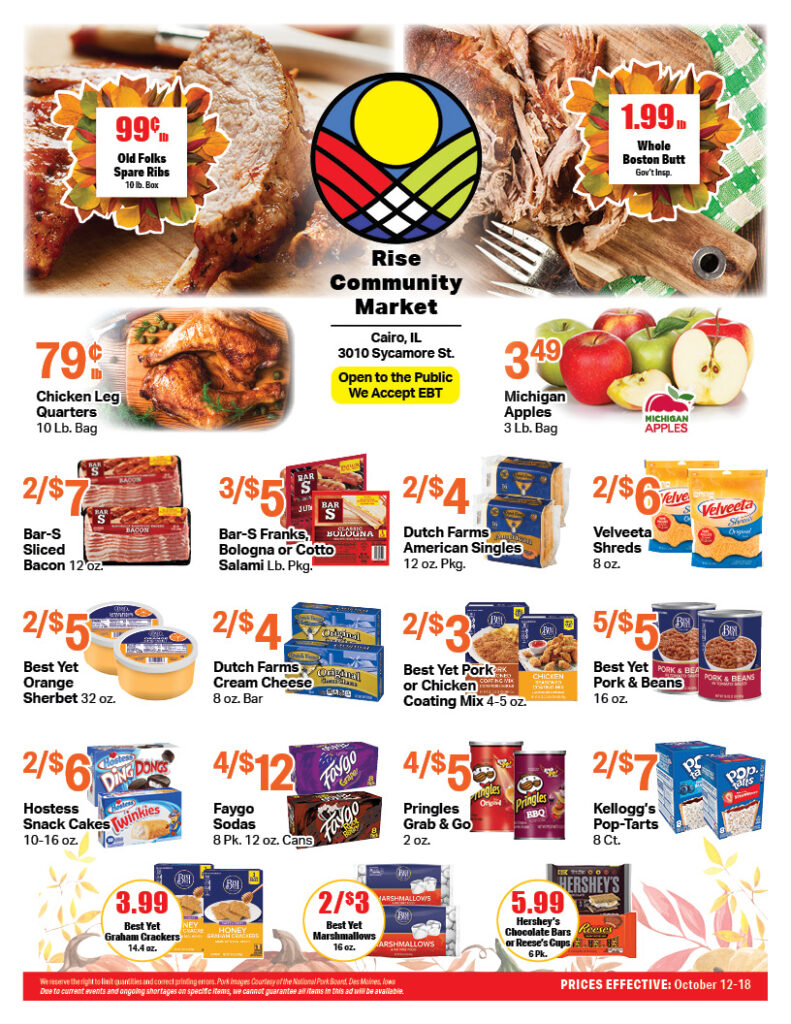 It would be hard to overstate the positive change that Rise Community Market is bringing to Cairo residents. The clean, bright, well-stocked, welcoming store is a sharp contrast to the food pantries and "dollar stores" on which they've had to rely if they could not get to those full-scale grocery stores many miles away.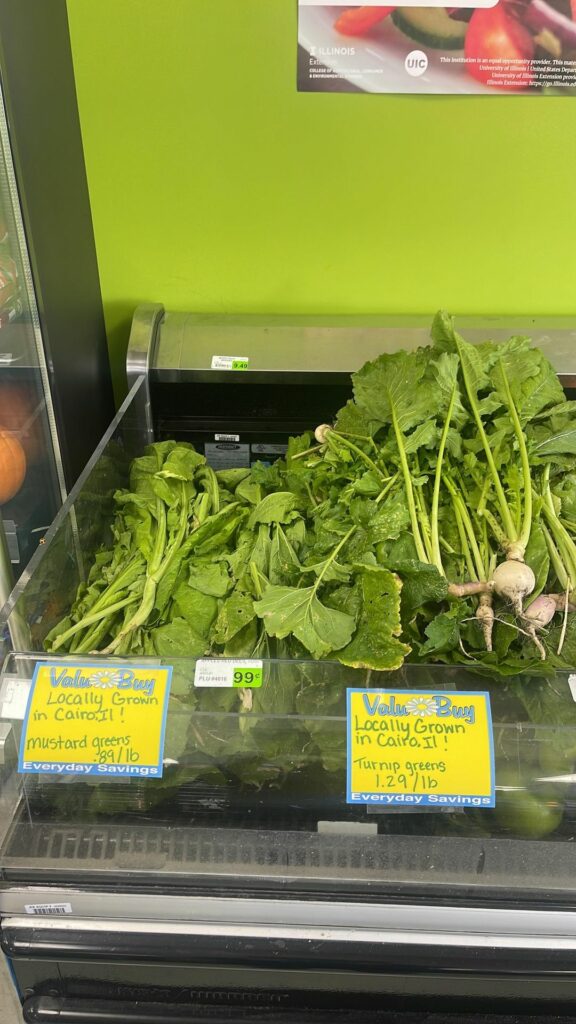 Rise Community Market is open to serve the community from 8 a.m. to 7 p.m. Monday through Saturday and from 10 a.m. to 6 p.m. on Sunday. The store accepts Electronic Benefit Transfer payments, which is vital to the many local residents who receive food assistance through the federal Supplemental Nutrition Assistance Program (SNAP) known as Link in Illinois. The store has also applied to accept Women, Infants and Children (WIC) benefits.
The store has a Rise and Shine Café, currently open during lunch hours. A full meat department is planned to open early in 2024. And also, next year, a kitchen will be built that will offer cooking lessons not only to adults but their children as well. "It's pretty nice for a small community store," Edwards said.
"Even some better-off communities don't have a store like this in them unless they've got the population to support like a Kroger or Walmart. And you can see the people have a sense of pride about that."
Engaging and Building Community
The store is open to all shoppers. But as is the case with most co-op food stores, Rise Community Market gives those who become paid members a voice in its operations and planning. The one-time membership fee is $100 (those who became members before the store opened paid $50).
As the store's website explains, "Each co-op member has one vote at meetings of members. Members vote on major operational facets of the store including selecting the Board of Directors, eligible to serve on the Board and Board committees, making changes to by-laws and influencing major decisions about the store's future. Membership also entitles shoppers to "patronage benefits" which includes deals and discounts based on the amount of goods and services purchased at the Co-op."
Recently instituted discounts implemented by the store provide 5 percent off purchases on "Wonderful Wednesdays," and 2 percent off all other days of the week.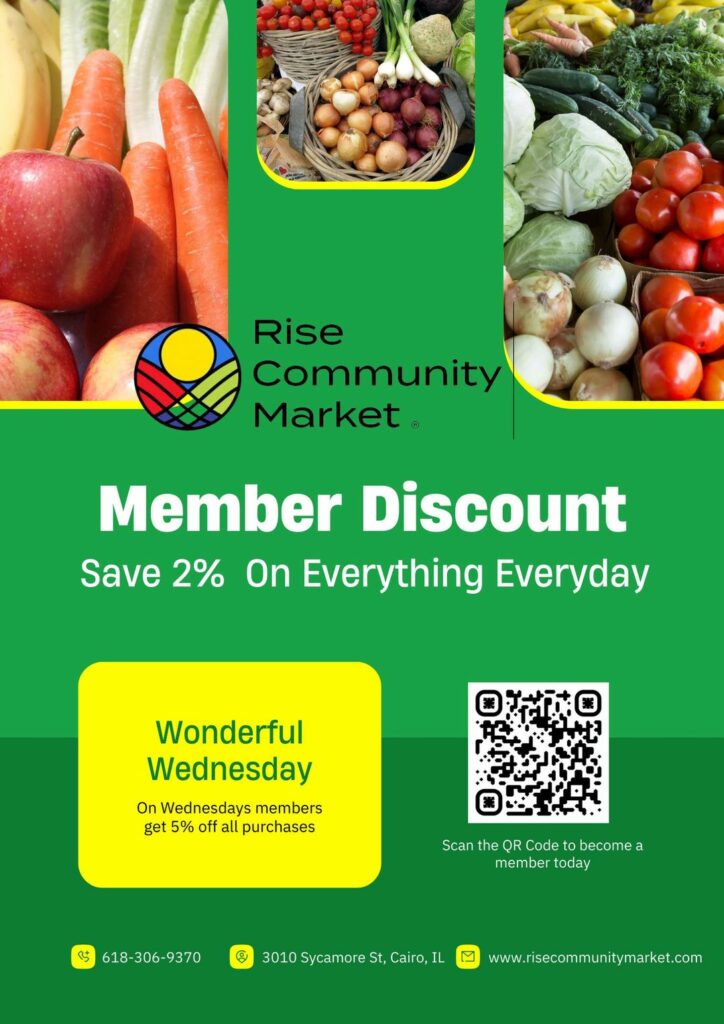 It took more than a village to make Rise Community Market happen. It took a coalition of determined local activists, state officials and non-profit planners and funders.
Steven Tarver Sr., now a Rise Community Market board member, became a leading advocate for positive change. The organization went all in when a local coalition started to strategize about ending Cairo's days as a food desert. This effort ultimately came to the attention of Illinois Lt. Gov. Juliana Stratton, who since 2019 has used her office to advocate for food equity and urban agriculture.
Lt. Governor Stratton reached out to Sean Park from Illinois Institute for Rural Affairs (IIRA) and IIRA worked with the leaders and the community to move Rise Community Market forward.
The Last Hurdles
The process was not without challenges, including gaining the trust of local residents who had seen previous ideas for a local supermarket turn out to be pie in the sky. "These guys had seen so many empty promises down there," Park said. "I don't know how many times we've heard, 'Yeah, it's great. I'll believe it when I see it.'
The market was completed with funding through memberships, shareholders and grants from the University of Illinois; the state of Illinois' R3 program that helps communities that have suffered from economic disinvestment; and Builder's Initiative, a mission-driven Chicago-based non-profit.
Rise had one more big need: an experienced grocery store manager. It was almost serendipity that they found Robert Edwards, a longtime veteran of the grocery trade. "I didn't plan on coming back to retail," Edwards said. "But when I heard what was going on with Rise and saw the opportunity to be able to be a part of the community here and help with it, I knew that the skills that I had from my prior career could help."
He continued, "I'm more empowered to be able to help the people here, I can make decisions, because we're here to help the community now. We need to turn a profit to stay in business. But the profit isn't the goal."
And he expressed hope that the store can be more than just a store, but a catalyst of economic vitality in a city that has endured a decades-long downturn: "I think the store actually might help kick off a little bit of a change in the dynamic of the community as far as just their general outlook on what can be done, and then once they have that positive outlook, maybe make more happen."
Find Food Co-ops Near You
The following is just a sample of the food co-ops that dot the map across Illinois. To find more, please click the button below to access the Buy Fresh Buy Local Illinois Directory.
• Neighborhood Co-op Grocery, Carbondale
• Common Ground Food Co-op, Urbana
• Green Top Grocery, Bloomington
• Macomb Food Co-op, Macomb
• Sugar Beet Co-op, Oak Park
• The Dill Pickle Food Co-op, Chicago
Get Listed with Buy Fresh Buy Local Illinois
Are you a farm, farmers market, farm-to-table restaurant, or grocery store that sells local products purchased directly from local farms? Get listed in Illinois' most trusted guide to local food. Your listing is absolutely free. Buy Fresh Buy Local Illinois is a local foods marketing project led by a coalition of organizations across the state working to promote local farms and food businesses like yours. Get listed and start reaching new customers today!