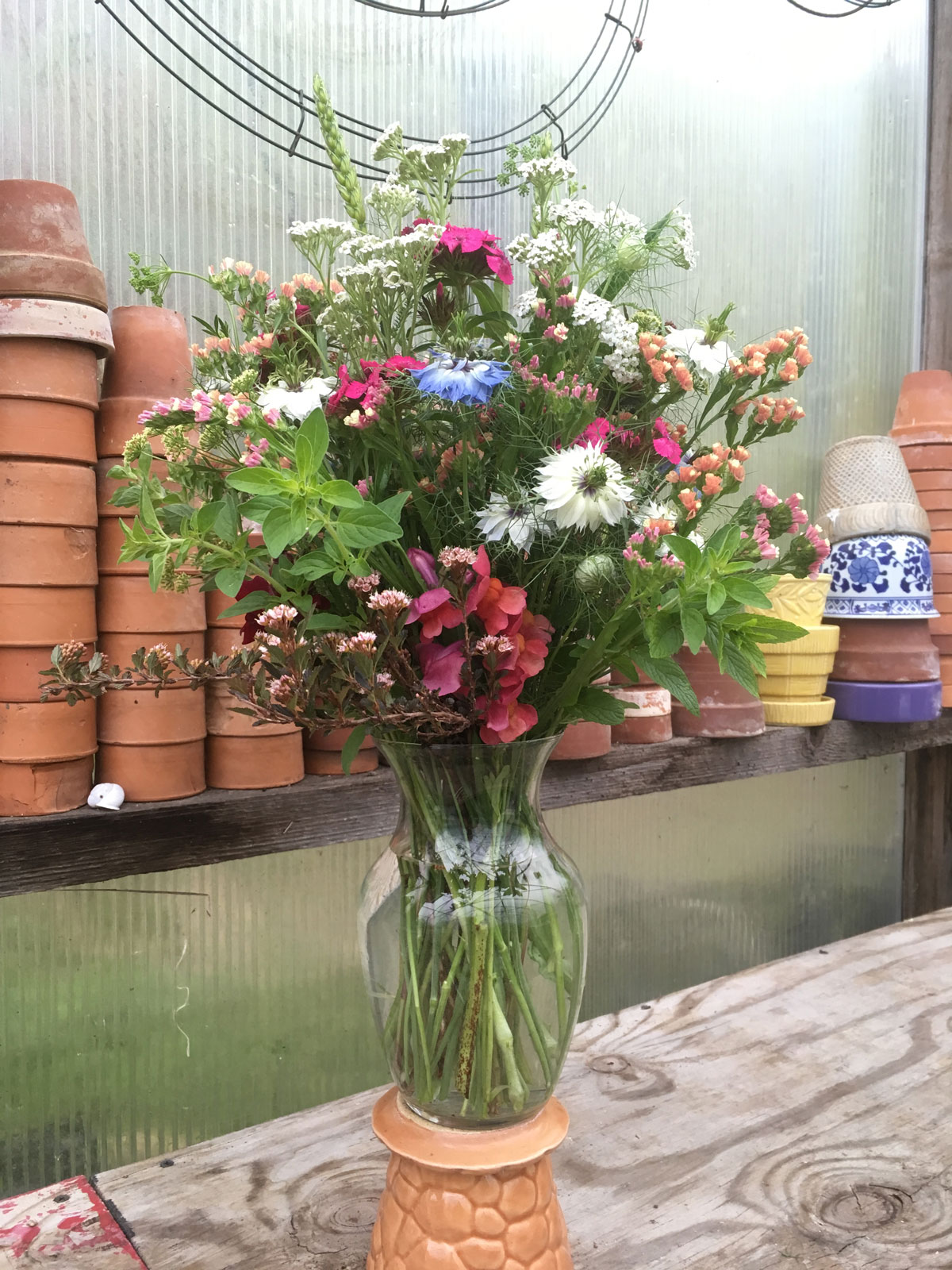 Make Mother's Day extra special with locally-grown flowers
With Mother's Day, school graduations and the traditional start of wedding season, May is a big time for flower growers. So our featured farm this month is Flora Bay Farm, located just south of Carbondale in southern Illinois.
We recommend that you buy flowers from local farmers for many of the same reasons we urge you to buy food from local farmers. The flowers are fresher — harvested just in time for market and not shipped from hundreds or thousands of miles away — and that means they last longer. Many of our local flower growers, such as Courtney Smith featured below, are devoted to sustainable farming practices. And money spent with local producers has much greater benefits to your community than money sent to businesses far away.
Please enjoy the article about Flora Bay and then visit our Buy Fresh Buy Local Illinois directory to find farms and markets of all kinds that fit your values.
Mother's Day Meets Mother Earth at Flora Bay Farm
The clock runs faster for flower growers in May. While most farmers are just getting their seeds in the ground, Courtney Smith of Flora Bay Farm near Carbondale, Illinois watches nervously hoping that her early flowers bloom in time for annual May events that are crucial to her bottom line.
Courtney switched careers from graphic design in 2013 and brought her eye for beauty to her first-time farming venture. She now grows up to 500 types of flowers, along with a curated vegetable patch that includes some uncommon varieties, and a small planting of hops that came with the property when she and her life partner Steve bought it a decade ago. Courtney says the farm is about 100 feet south of the Carbondale city line in Makanda Township (whose most famous resident was the late U.S. Sen. Paul Simon).
"Mother's Day also falls on graduation weekend here at Southern Illinois University (SIU)," Courtney says, "There's a lot of flowers that are needed."
In order to make sure her bouquets are ready for moms and grads, Courtney follows a planning and planting calendar that is much different from most other farmers. "I'm planning for next spring 2023," she says. "I've got to start in like June, July with starter plants that will go into the ground in the fall. She adds, "Hopefully those will be blooming for Mother's Day."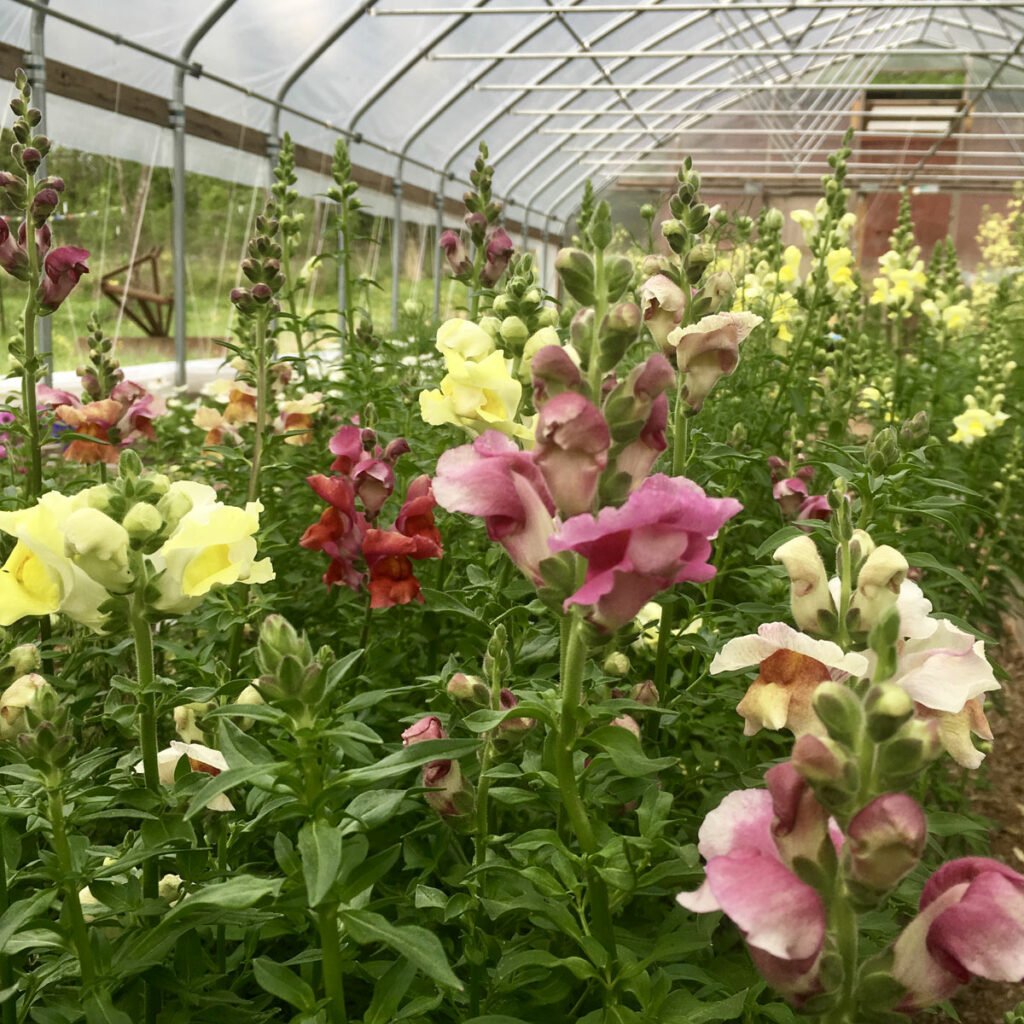 More Latitude for a Long Growing Season
Spring does come early in Courtney's part of the state. Carbondale is located about 400 miles from Illinois' northern border, south of St. Louis and Louisville and much closer to Memphis than it is to Chicago. This has upsides, especially when it comes to this peak flower-selling season, but it has its downside too.
"The winters aren't as cold, we don't get long spills of cold. We get just enough dormant hours for, say, fruit trees and bulbs. That allows for a longer growing season," Courtney says. "But that can be tough if you've got a lot of insect pressure, which we do, because it's so humid here."
That humidity also raises concerns as global climate change produces more frequent and severe storms: "It's not usually a gentle rain, it's usually like a downpour. And that makes it hard, especially if you're direct seeding. You have to really be careful when you're going to direct seed things because all of your seeds might end up in a puddle after downpours. I also have to watch when I pick because I try not to pick flowers when they're wet. And so just working around the rain."
Cabbage Patch Kid
Courtney grew up about 65 miles northeast of Carbondale and received an Art degree at SIU, remaining in the area working in the graphics art industry (her artist's eye is evident in the beautiful bouquets she sells). Though she hadn't previously farmed, she was an avid gardener, following in the footsteps of her family elders (Courtney says she grew up in the cabbage patch).
Wearied of working in a cubicle, she took a Farm Beginnings course from Carbondale-based nonprofit Food Works, then set out on her own farm dreams, with flowers foremost in her business plan. "It's something that I've always loved. I would walk to my grandparents' house and pick wildflowers all along the way," Courtney relates, though her grandma wasn't always thrilled because she was allergic to many of the plants.
Courtney adds, "With my art background, flower designing, and floral arranging has become a passion. And there's so many flowers to grow."
While Courtney says though growing flowers is not that different from growing vegetables," There's a few things that we have to do differently, like trellising for the flowers to get tall and straight. Especially when it's windy, that helps them from breaking."
Earning the Certified Naturally Grown Label
Her Flora Bay Farm largely focuses on native flower and plant varieties, following the wisdom of the ages that native plants grow naturally in their environment and need less help from the farmer. "We've got lots of wild native grasses out here like river oats, river oats are one of my favorites," Courtney says. "And then just using the native plants allows me to create different habitats for our native pollinators, just our native wildlife basically. And with native stuff, it grows so well, it doesn't require irrigation, doesn't require fertilizer. It just grows. And usually if it's happy, it will let you know, and it will spread."
This back-to-nature philosophy is all-encompassing at Flora Bay, which has the Certified Naturally Grown label. "It's just really important for me to not use any chemicals or synthetic fertilizers," says Courtney. "I don't want to eat that. I don't want to be around it. So, I just try to do this thing as naturally as possible."
And Courtney also takes an unconventional approach to her vegetable growing. She once did a cotton planting because she felt it important to grow and pick the crop to gain a greater understanding of the experiences of formerly enslaved people. She does have a hoop house where cherry tomato vines grow tall, but she has her eye on growing artichokes and cardoons for market, and experiments with exotic Asian varieties as the Pona Kheera cucumber from India and bitter melon.
"Life is too short to only eat red tomatoes," she concludes.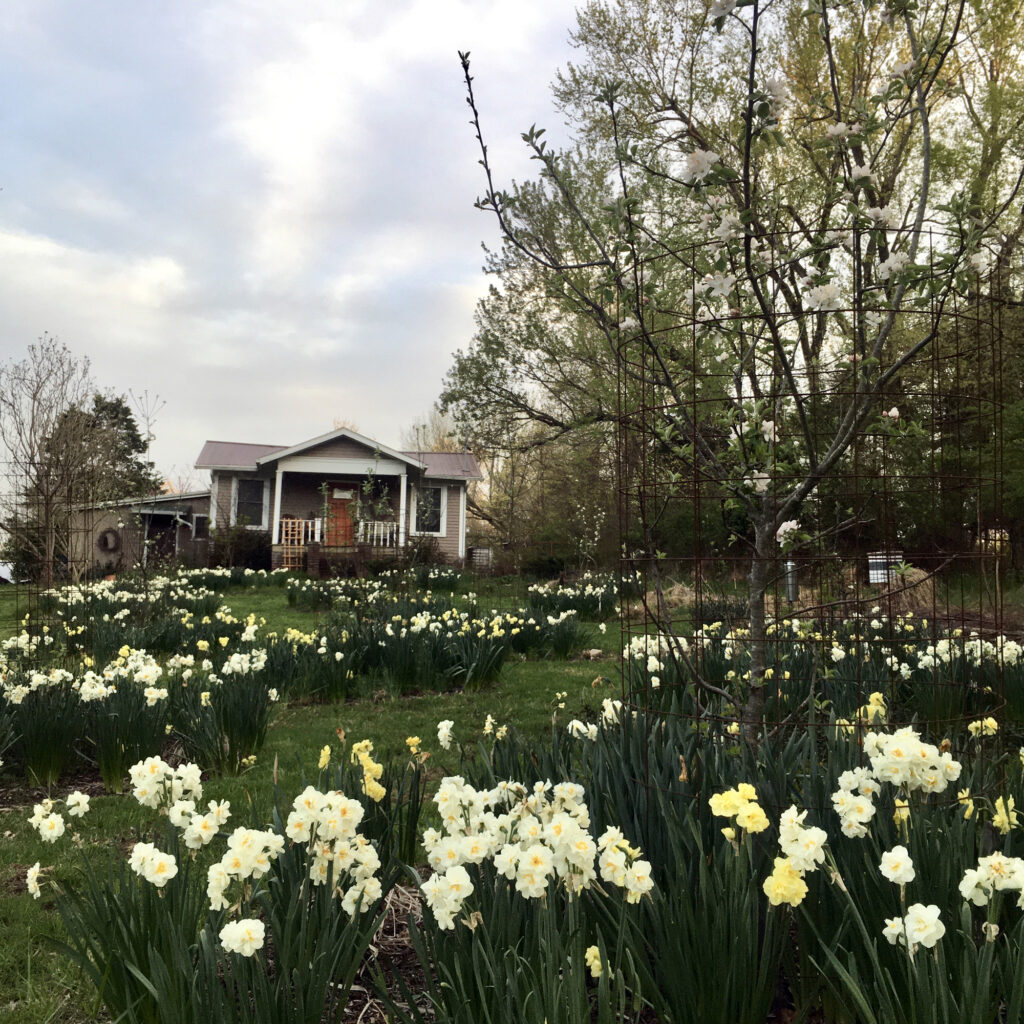 Where to Buy
Flora Bay Farm sells Community Supported Agriculture (CSA) subscriptions, and can also be purchased through the following outlets:
• Carbondale Community Farmers Market
Other Flower Farmers Near You
Dented Gate Flower Farm, Woodstock (North Central)
Delight Flower Farm, Urbana (East Central)
Danndee Flowers, Aledo (West)
Flowers by Brandi, Bloomington (Central)
Lowen's Flower Farm, Manhattan (Northeast)
Get Listed with Buy Fresh Buy Local Illinois
Are you a farm, farmers market, farm-to-table restaurant, or grocery store that sells local products purchased directly from local farms? Get listed in Illinois' most trusted guide to local food. Your listing is absolutely free. Buy Fresh Buy Local Illinois is a local foods marketing project led by a coalition of organizations across the state working to promote local farms and food businesses like yours. Get listed and start reaching new customers today!
This story is written by Bob Benenson of Local Food Forum on behalf of the Buy Fresh Buy Local Illinois Coalition.