Savor Autumn in Illinois with Agritourism Adventures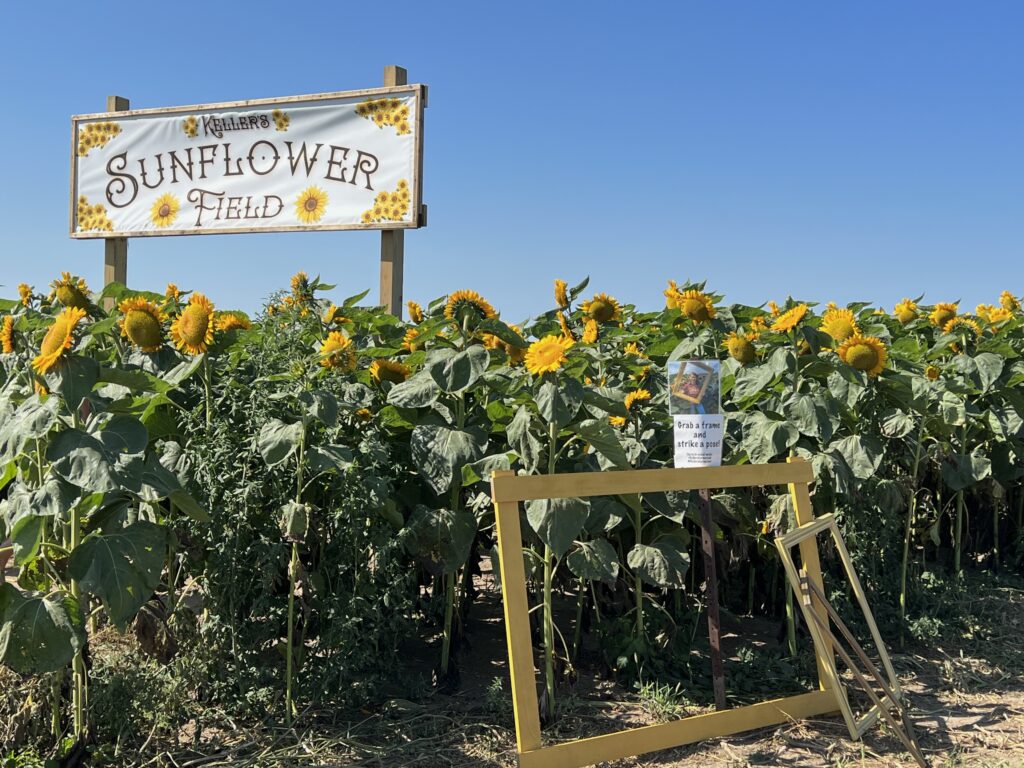 It's always great to visit a farm and get to know the farmers who grow our food. But there's no better time than September and October, as the heat of summer gives way to the cool comforts of autumn, and a ride in the beautiful Illinois countryside can lead to bountiful opportunities to pick your own apples, pumpkins, berries, flowers and more.
There are farmstands where you can buy super-fresh and delicious produce, baked goods such as pies and apple cider doughnuts, packaged goods such as preserves, sauces, salsa and more, and lots of refreshing fresh-squeezed cider. And many of the farms that participate in what's come to be known as agritourism also go all in on entertainments such corn mazes, hayrides, petting zoos and more.
Timed to the season, our monthly feature highlights three very welcoming farms: Mariah's Mums and More on the outskirts of the central Illinois city of Clinton; Keller's Farmstand in Oswego, just beyond the southwest limits of metro Chicago; and Valley Orchard, an easy-going, U-pick-focused farm in Cherry Valley (near Rockford) where you are likely to be welcomed by the two friendly greeter dogs.
Mariah's Mums and More (Triple M Farm), Clinton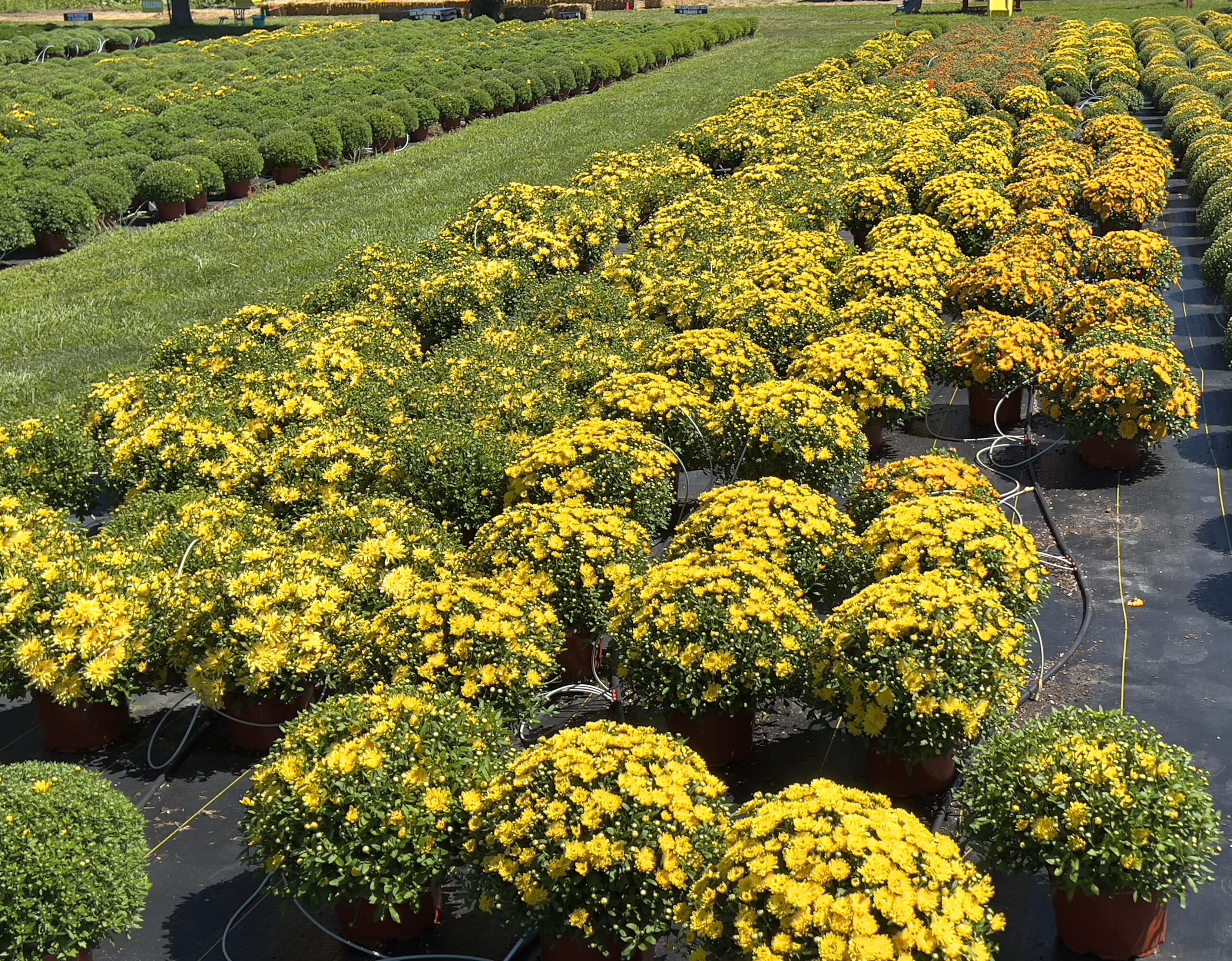 You can drive many miles through the central Illinois flatlands heading toward the small central Illinois city of Clinton through fields of corn and soybeans. That is, until you arrive at Mariah's Mums and More, an oasis of flowers and tomatoes and strawberries and pumpkins, but especially flowers.
That Mariah's is a values-driven farm is spelled out right at the top of their website. It reads, "Nestled in the heart of Central Illinois corn and soybean fields is our field of vertically grown strawberries, fresh vegetables, and the largest variety of fall mums grown in one location in Illinois. Know the story and faces behind your food and flowers when you visit our farm. We're passionate about growing healthy, flavorful produce and the highest-quality mums and at the same time, providing a direct link to the farm where it's all grown."
The farm's claim to fame is its big yield of chrysanthemums, grown row upon row in a variety of colors. The plantings are staggered to ensure that there are plenty of flowers for visitors throughout the growing season, and the garden plots are arranged by when the flowers in each plot will bloom.
"We grow over 20,000 fall mums at our farm…," said Mariah Anderson. "We do over 30 different color combinations and we have what we call the Great Mumbinos, which have all five of the main color families planted in one pot."
You don't want to miss Mum Fest, a two-day event (Sept. 9 and 10 this year) drawing from 4,000 to 5,000 visitors each year. "We have about 70 different vendors that come, like craft vendors and makers and food trucks. And we have live bands both days, we have lots of activities for the kiddos, like face painters and balloon artists," Mariah explained.
There is plenty to do there if you can't make it for Mum Fest. Along with the U-pick flowers and pumpkins and children-focused play areas, the farm is one of a handful in Illinois growing strawberries hydroponically in vertically stacked pots in a hoophouse. While the spring outdoor strawberry season is quite short, the hydroponic system enables Mariah's Mums and More to sell juicy, delicious strawberries from June to October.
The farm is located at 16727 Airport Rd., about 10 miles from the city's center and roughly halfway between Bloomington and Decatur. Also known as Triple M Farm and run by the married couple of Mariah and Greg Anderson, it is open to visitors from Friday to Sunday, 10 a.m. to 4 p.m., during the peak September/October season.
Both the Andersons grew up on farms, Greg just southwest of metropolitan Chicago, Mariah near the Ohio River in far southeast Illinois. They ended up in the middle, with one of the prettiest agritourism farms you could visit.
Keller's Farmstand, Oswego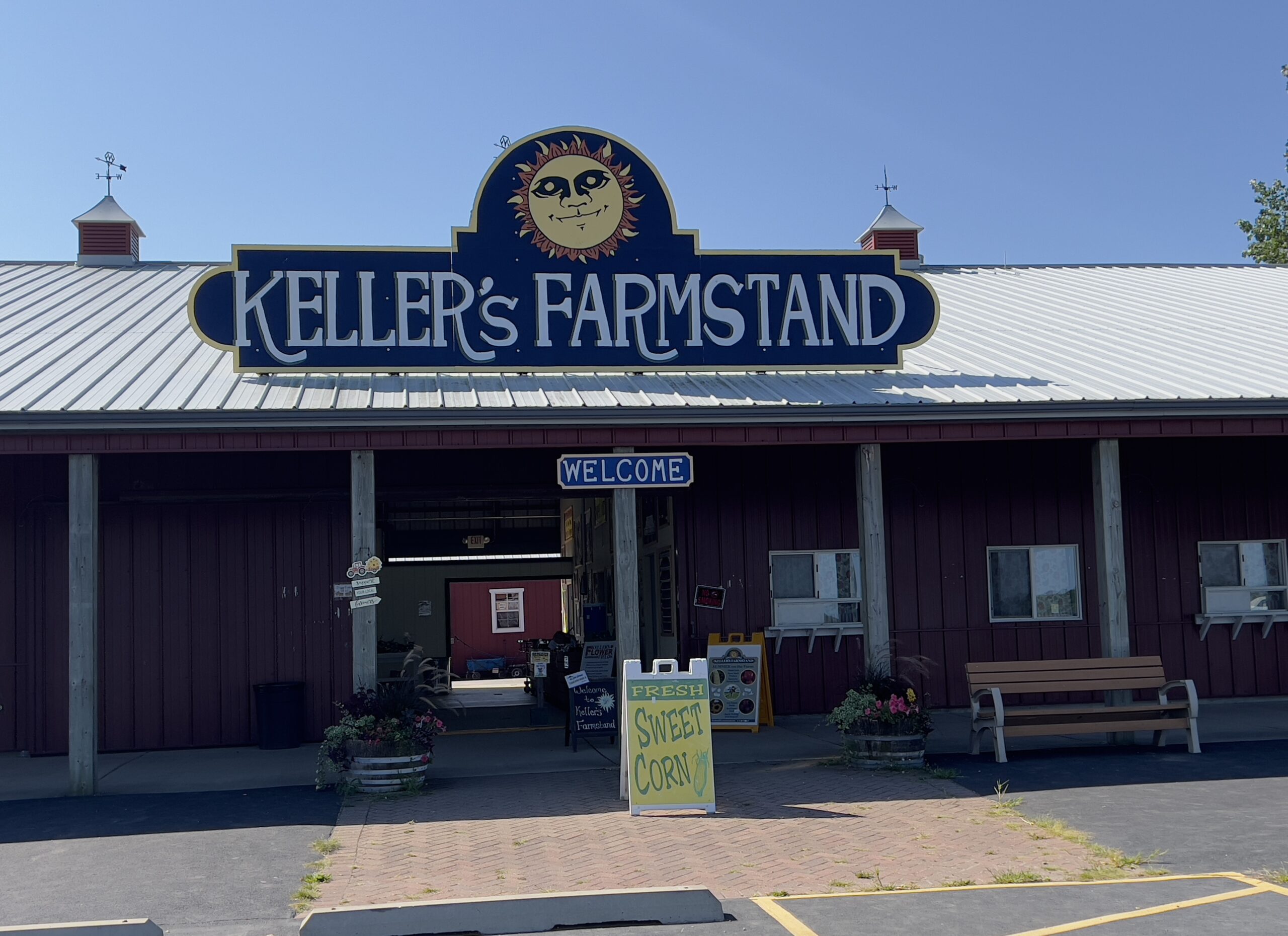 Keller's Farmstand in Oswego is just 45 miles southwest of downtown Chicago's Loop, making it an easy drive for an escape to the country — and a piece of the area's long farming heritage.
Drive into the farm and to your left you'll see the expansive U-Pick apple orchard, with more than 16,000 trees and about 70 varieties of apples. Park your car in front of the farmstand building where home-grown produce, apple cider doughnuts and value-added products such as preserves and sauces can be purchased.
Walk to your right and the first thing you'll see is the Corn Maze. Beyond that you'll find a big children's play area, a small livestock area, more growing fields (including the U-pick pumpkin patch), and the biggest sunflower field that most visitors have ever seen. Tickets are now on sale for all fall season festivities and can be purchased at the Keller's Farmstand website.
After more than a century and a half farming in now-urbanized Naperville, the Keller family bought the Oswego property in 2007 and quickly recognized the agritourism opportunities its near-in location. The farm at 2500 Johnson Rd., which also welcomes visitors during the spring and summer, is open from 10 a.m. to 6 p.m. Monday through Friday and 9 a.m. to 6 p.m. Saturday and Sunday. "We've been doing a corn maze for 22 years. Now it's an integral part, along with the orchard, for people to learn about the farm…," said Frank Keller IV, farmer and president of the family business. "Over time, we've just added the pieces. It can be lucrative, but it takes a lot of time in management."
Valley Orchard, Cherry Valley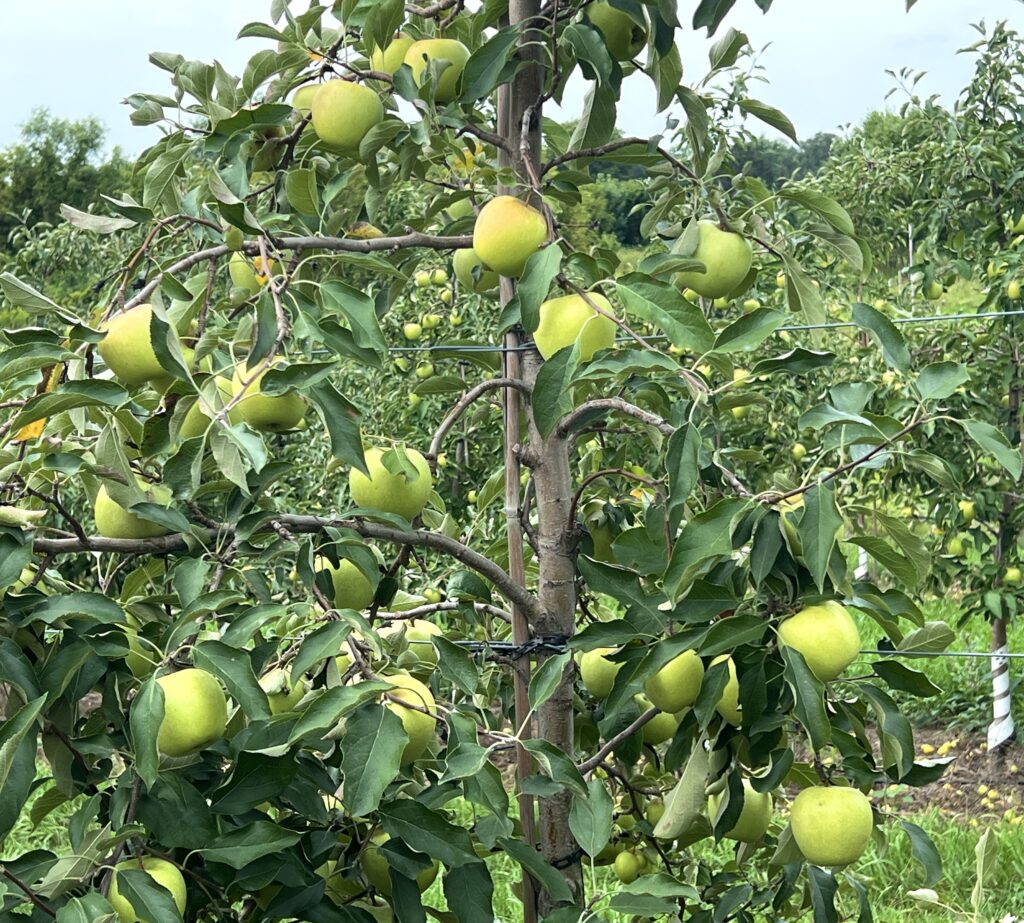 Valley Orchard is located in the village of Cherry Valley, just southeast of the city of Rockford. This is northern Illinois apple country, and Raoul Bergesen has been growing this favorite fall fruit for 46 years.
While there is a play area for children as you enter the 35-acre property, this farm focuses on the simple autumn pleasures of picking your own apples, raspberries and elderberries, and maybe stopping at the farm store for apple cider doughnuts, apple pies, sweet cider, and more.
"We're a smaller operation, unlike the larger places that have everything imaginable," said Raoul Bergesen, who founded the orchard and has farmed it for 46 years. "We try to be friendly, we try to be personable. I try to talk to as many people as possible, and I try to have our staff do the same thing."
He added, "The only petting zoo we have are two family dogs." Darrell, the laidback big dog, and Gordy, the energetic little dog, also are friendly ambassadors for the place.
The U-pick season at Cherry Valley actually begins during the summer with (no surprise) cherries, as well as strawberries and blueberries. The peak season began on August 25 and runs through the end of October. The farm, located at 811 E. State St. in Cherry Valley, is open 9 a.m. to 6 p.m. Monday through Saturday and 10 to 6 on Sunday.
Bergesen did not grow up in a farm family, but visits to friends of his parents at their Minnesota farm got him hooked. "I went up there and I just loved it. I love the smell of manure. I love the tractors," he said. "I love everything about it."
Find Agritourism Farms Near You
The following is just a small sample of the agritourism farms that dot the map across Illinois. To find more, please click the button below to access the Buy Fresh Buy Local Illinois Directory.
Curtis Orchard and Pumpkin Patch, Champaign (East Central)
Marcoot Jersey Creamery, Greenville (West Central)
Frank Pumpkin Patch, Atkinson (West)
Rendleman Orchard, Alto Pass (South)
The Ryder Family Farm, Golconda (Southeast)
Get Listed with Buy Fresh Buy Local Illinois
Are you a farm, farmers market, farm-to-table restaurant, or grocery store that sells local products purchased directly from local farms? Get listed in Illinois' most trusted guide to local food. Your listing is absolutely free. Buy Fresh Buy Local Illinois is a local foods marketing project led by a coalition of organizations across the state working to promote local farms and food businesses like yours. Get listed and start reaching new customers today!