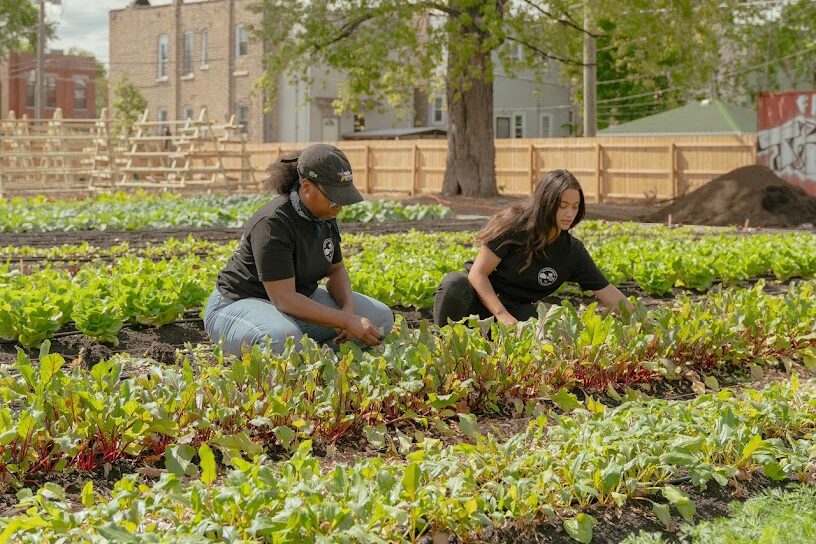 More Farmers of Color Joining Illinois' Agricultural Legacy
It is well known that farmers of color are under-represented in the ranks of our nation's farmers. But in recent years, a growing number of Black, Asian, and Hispanic people have joined the overall young farmers movement and are experiencing the joys and challenges of producing food across the state of Illinois.
The following stories highlight two of these farms: Herban Produce, a Black- and woman-owned urban farm in an underserved community on Chicago's West Side, and Humbleweed Farm in Champaign, run by a first-time farmer whose family emigrated to Chicago when she was three and who is growing crops that are major ingredients in Korean cuisine.
We urge you to support farmers of color whenever you have the opportunity, and we urge farmers of color to take advantage of the opportunity to promote their work by signing up for a free listing in the Buy Fresh Buy Local interactive online directory.
Herban Produce: Planting Seeds of Urban Revival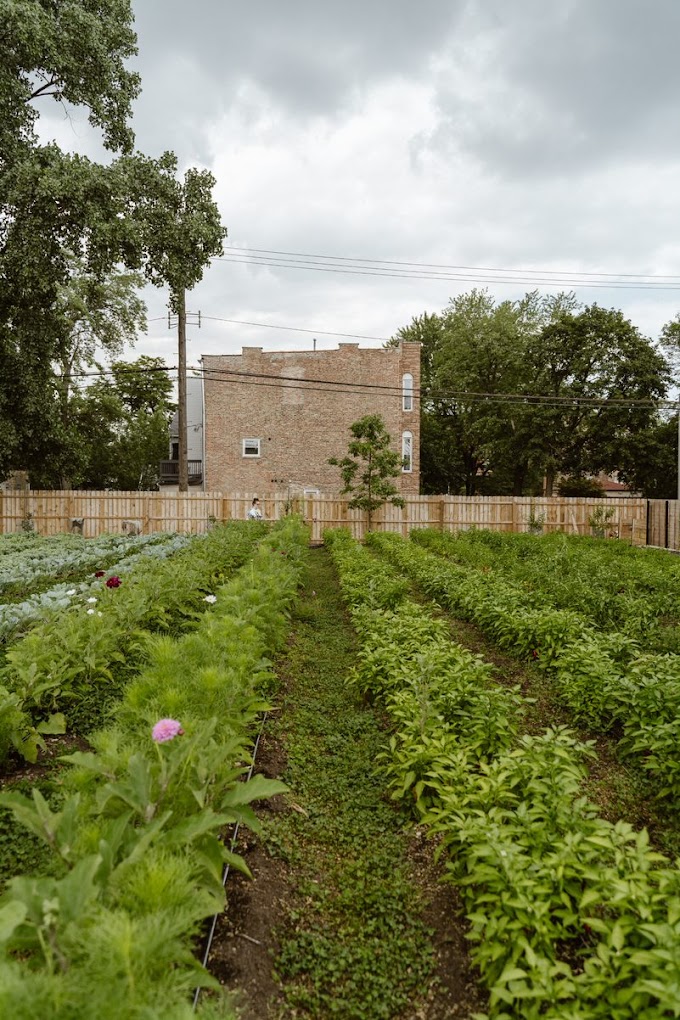 The "Herban" in Herban Produce is pronounced "urban." And it is hard to get more urban than this mission-driven two-acre farm on Van Buren St. in Chicago's underserved East Garfield Park neighborhood.
The city's skyline about three miles away provides the backdrop to the growing space on the property's eastern side. The busy Eisenhower Expressway, which connects Chicago's downtown to its western suburbs, is Herban's neighbor to the south. Herban's other outdoor growing space and greenhouse, on the western side, is next door to an auto repair shop.
Alicia Nesbary Moore is co-owner, CEO and "Chief Veggie Officer" at Herban Produce. She was born on Chicago's West Side, which has a mostly Black population; moved with her family to south suburban Richton Park when she was five years old; and became a science whiz, earning a bachelor's degree in biology and a master's degree in molecular biology from Chicago State University after first obtaining a B.A. in anthropology at University of Illinois in Champaign.
With her husband, she decided to return to the West Side to contribute as a community activist. Although her studies had included the genetics of cereal crops, her journey to become an urban farmer began as happenstance in 2016 when she first became acquainted with a startup Herban Produce.
"I was living on the next block [in East Garfield Park], and I saw this greenhouse being erected right outside of my door. So I decided to walk over with my dogs," Moore said. "And I was like, 'Hi, my name is Alicia. I'm in grad school, I'm really stressed out, I would love to just volunteer and get my hands dirty. And so I started volunteering at the greenhouse at the time.'"
Within a couple of years, Moore had become co-owner of Herban Produce, while also serving as an adjunct professor of science in the City Colleges of Chicago system.
The greenhouse and the outdoor growing spaces that developed astride it fulfilled Moore's social mission. The farm site revived one of numerous properties in the area that had been vacant since the destructive 1968 riots. It also provides a source for fresh local produce in a neighborhood where access to healthy food is lacking.
Herban Produce sells subscription Market Boxes filled with specialty lettuces and vegetables, herbs and edible flowers grown onsite along with a rotating selection of pantry goods from small producers around Chicago. The farm also sells through several retailers and provides produce for restaurants.
While many farms operating in underserved urban communities are run by non-profit organizations, Herban Produce transitioned from non-profit to for-profit.
"There are so many non-profits, even farming non-profits, that already exist," Moore said. "And unfortunately, there is this perception that because I'm a non-profit, we're this entity that we need to just give it away… I'm like, 'Do you know how much labor went into this? One piece of lettuce, or this one carrot?… How can I show the value of healthy grown food? And so that's really been the mission."
Not that urban agriculture is a great way to get rich, so Herban Produce uses the four-story building at the center of the site to create additional revenue streams, including a beautifully appointed Airbnb and an event space called The Coop.
"We try to figure out creative ways to keep the lights on," Moore said.
Humbleweed Farm: Elevating Korean Food Consciousness in Champaign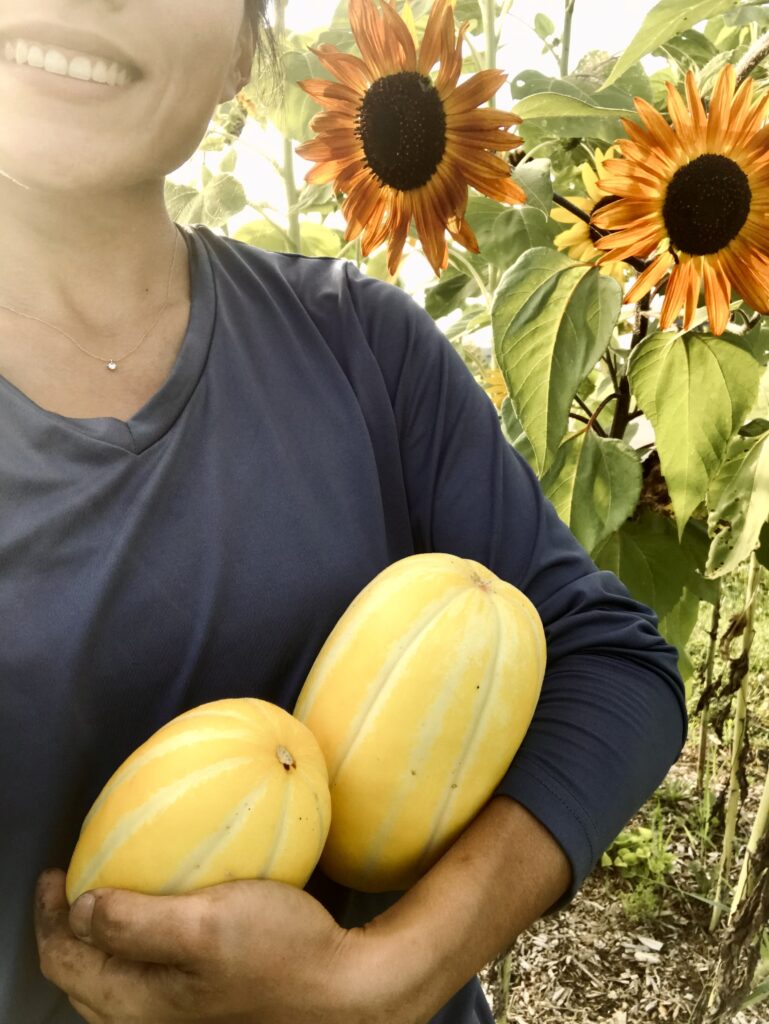 Miky Eum was three years old when her parents emigrated from Seoul, South Korea to Chicago, and she grew up steeped in her parents' Korean food culture. So, when she decided to start farming in Champaign, she moved to attend college, it was not surprising that she focused on growing produce items that are staples in Korean cooking.
What did surprise Eum was the nature of her Humbleweed Farm's customer base. "I thought that my target audience was going to be Korean international students at University of Illinois, or Korean families. But actually, a lot of my customers are non-Korean, and they want to know more about the produce that I grow," Eum said.
She continued, "So that was really interesting, because I thought that I wouldn't need to do the education part because I was thinking Koreans know what perilla leaves are. But my first year, second year, I really had to invest a lot of my time into teaching people how to use it, what we use it for."
Many of her crops — such as garlic, leeks, scallions, onions, carrots, and cherry tomatoes — are common across demographic boundaries. But there are others that require some explanation, such as frog melon. "The frog melon is supposed to taste like a watermelon-cantaloupe mix," Eum said. "I think the name comes from the fact that the outside of the melon looks like a frog's green exterior."
Those perilla leaves Eum mentioned? "Koreans love to pickle them and eat them as a side dish. We use it as a lettuce wrap when we eat Korean barbecue. You can even use it as a garnish. I've actually sold some of the leaves to a chef here who has a wine bar and he added it into his specialty drinks, like a gin and tonic."
And old cucumbers? "They are basically cucumbers that have stayed on the vine for longer. They are really leathery-looking, very brown, and almost looks like you shouldn't eat it… But it's also super fresh. We like to eat them out in the field because they're very full of water and it's refreshing."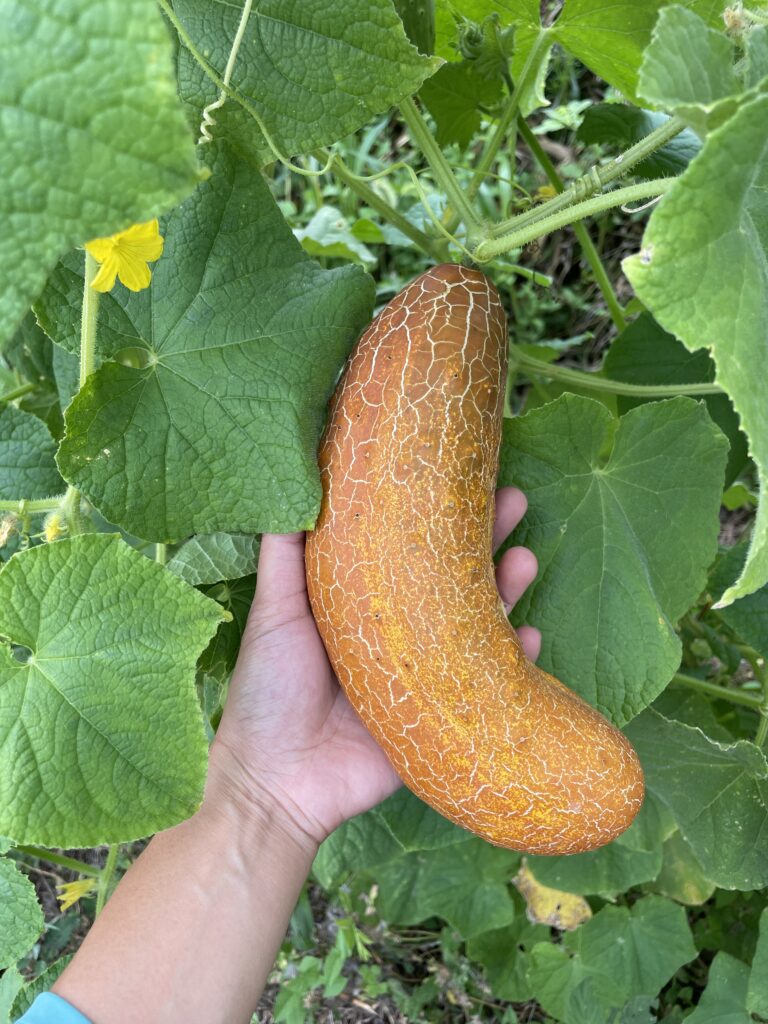 Eum said she had no idea that she would become a farmer — until she took a tree identification course at Champaign's Parkland College. "I just fell in love with it," she said. While pursuing a horticulture certificate at the school, she volunteered at local farms. One was owned by a Parkland teacher with whom she studied. He was relocating to Maine and persuaded Eum to take over his tiny quarter-acre farm.
"I wanted to eat some of the things that I couldn't really find here on the markets," she said. "So that's how I decided like, I'm going to be growing Korean veggies, and I'm going to do it in a no-till method without spraying and herbicides and pesticides."
She also benefited from taking part in the Stateline Farm Beginnings program run by Angelic Organics Learning Center in Caledonia, Illinois. "At first, I didn't think I needed it," she noted. "But that was the naive part of me thinking I can do everything by myself. The course really helped me understand all the different parts that go into starting a farm and business, understanding that there's so many things that I didn't know that I had to know."
The best way for consumers to obtain Humbleweed Farm products is the new e-commerce page on its website, which Eum will be building out during the upcoming growing season as products become available.
Other Farmers of Color Near You
Mustard Seed Sowers Farm, Carbondale (Southern Illinois)
Eden Place Farms (Chicago)
Urban Growers Collective South Chicago Farm (Chicago)
Oriana's Oriental Orchard, Winslow (Northwest Illinois)
Cedillo's Fresh Produce (Chicago)
Get Listed with Buy Fresh Buy Local Illinois
Are you a farm, farmers market, farm-to-table restaurant, or grocery store that sells local products purchased directly from local farms? Get listed in Illinois' most trusted guide to local food. Your listing is absolutely free. Buy Fresh Buy Local Illinois is a local foods marketing project led by a coalition of organizations across the state working to promote local farms and food businesses like yours. Get listed and start reaching new customers today!
This story is written by Bob Benenson of Local Food Forum on behalf of the Buy Fresh Buy Local Illinois Coalition.