August is THE month to visit a local farm market
This year's National Farmers Market Week is August 6-12, and Illinois Farmers Market Association (ILFMA) joins markets from across the country in celebrating the positive impacts farmers markets have. Farmers markets provide access to delicious, nutritious locally produced food, support local producers, and help sustain and build resilient local food economies.
August is the perfect month to visit your local farmers market or discover a new one that you have heard great things about — whether you are a market regular or just want to learn more.
It's perfect because this is the peak growing season throughout Illinois. If you love sweet corn (Illinois' state vegetable!); big juicy field tomatoes; peaches, plums, and other luscious fruit; the ubiquitous zucchini; and dozens of other favorite food items, don't miss this opportunity to buy the best. Keep your eyes peeled for interesting produce items that you haven't tried (if you're not sure what to do with them, your farmer/vendor will be happy to help).
And don't forget that many markets feature meat, eggs, prepared foods such as pickles, hot sauces and fruit preserves made locally, and there often are delicious breads and other baked goods for sale.
This year, the Farmers Market Week campaign is centered around the essential role that farmers markets play in the food system.
ILFMA says, "The benefits of buying local are many, including health, preservation of farmland, and most of all, sustaining the economic vitality of the community. Celebrate all things local and shop at your local Farmers Market, an essential, safe, resilient, and especially tasty place to feed your family!"
Many farmers markets around the state accept SNAP/Illinois LINK and participate in the Link Match program, which doubles the value of Link purchases for additional fresh fruits and vegetables. For a downloadable list of participating farmers markets go to https://www.ilfma.org/find-a-market/
To mark Farmers Market Week, our monthly Buy Fresh Buy Local Illinois article highlights three markets near the southern end of Illinois: The Farmer's Market of Carbondale; Marion Farmers Market; and LEAF Food Hub, an online farmers market serving the region.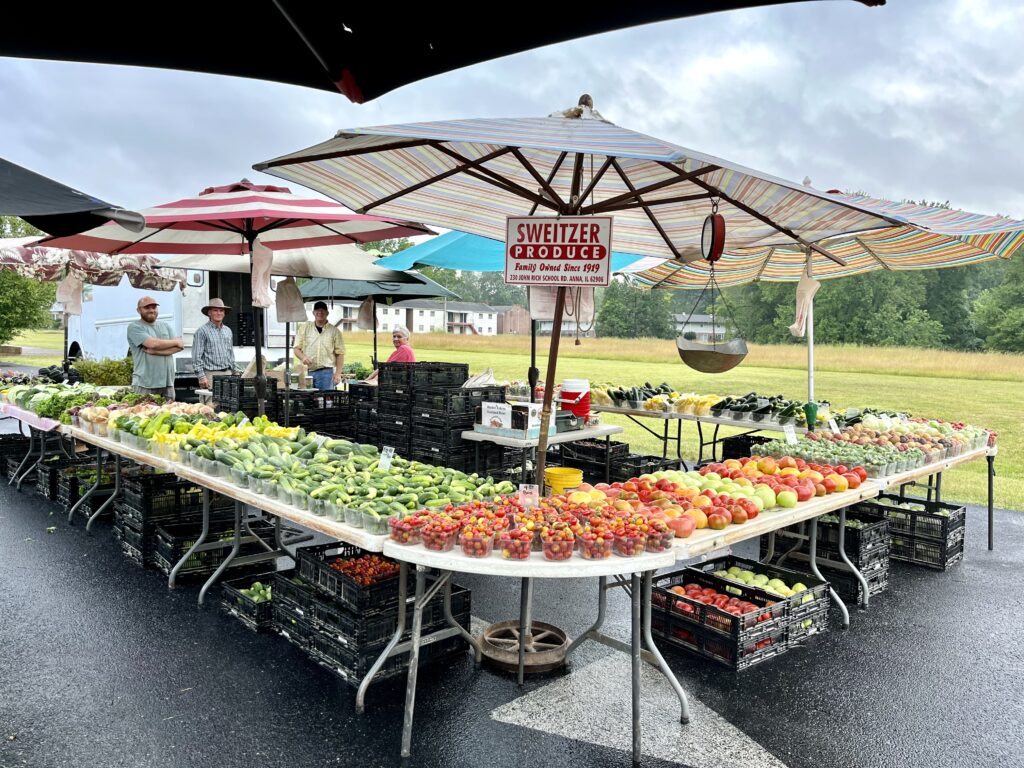 Carbondale
The Farmer's Market of Carbondale was launched in 1975, making it one of the longest running farmers markets in Illinois. And Ann Stahlheber has been part of the market almost since its beginning, as a produce vendor and, for the past dozen or so years, as the market manager.
The Carbondale market was started as a result of a community effort to persuade people to go into vegetable farming to earn a living and restore the land while expanding access to healthy local food.
The market, which has had several different locations over the years, is in the parking lot of Westowne Shopping Centre, 2001 W. Main St. In Carbondale. Its hours are Saturdays from 8 a.m. to 12 p.m.
The Carbondale market has 35-40 vendors on a given week, with all the staples (vegetables, fruit, meat, eggs, dairy, etc.); minimally processed packaged food products; baked goods; native plants; herbs; flowers of all types; and a rotating lineup of artisans and craftspeople.
And the way Stahlheber describes the atmosphere will resonate with farmers market regulars anywhere.
"It always seems friendly, always seems happy. It always seems like people are spending time not only shopping for their produce for the week, but visiting old friends, seeing people they haven't seen in a while, and catching up with local news. We have coffee, baked goods, and music often. So it's just a real nice atmosphere," Stahlheber said.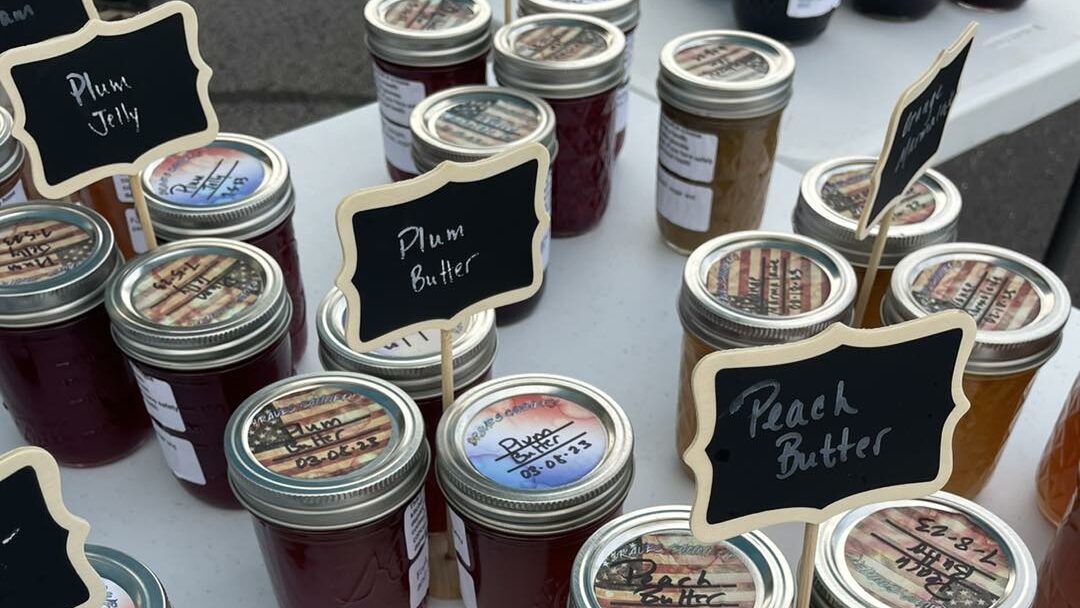 Marion
Marion Farmers Market Manager Jeanne Brumleve — like Ann Stahlheber in Carbondale — is a farmer herself. She said her dual role ensures that she is closely in touch with the challenges and opportunities that the other market farmers face.
She married into her husband's produce farm family in Cobden, located about 30 miles southwest of Marion, 22 years ago. For the first few years after, the couple sold crops through distribution channels, but determined they could get a better price selling direct to consumers at the Marion market. They quickly went all in and now sell nearly all their products at farmers markets.
Field tomatoes are one of their farm's trademark products, so much so that Brumleve gained the moniker of "The Tomato Lady."
Brumleve did not start out with the goal of managing the Marion market, but five years ago, took over the role and is proud of the market's recent vitality.
"It has grown substantially with the changes in cottage food laws, some of the products that are now available. We have vendors with fresh beef, pork, eggs, cheese, olive oils that have been flavor infused, sourdough breads, fruit and vegetables of every type, plants, trees, shrubs, eggs… It's just enjoyable to meet different vendors and from all backgrounds… It's just a rewarding job," Brumleve said.
The market is located at 507 West Main Street in downtown Marion and is open Wednesdays from 7 a.m. to 11 a.m. and Saturdays from 6 a.m. to 12 p.m. It does not have room for a lot of craftspeople at its downtown Main Street location, but they do keep open a few spaces in which artisans can alternate. "It also keeps the market fresh by having just a rotation of different items at the market," Brumleve said.
Although Marion is a relatively small city with a population a bit under 17,000, its farmers market succeeds at holding two weekly sessions. Brumleve attributes that in part to the market's location in the parking lot of a senior citizen center that serves meals Mondays through Fridays.
"Some of our patrons don't come into town on weekends, and so [the Wednesday market provides] the opportunity to get fresh fruits and vegetables… then we found that we started getting customers that work in Marion Monday through Friday, but maybe live elsewhere," Brumleve noted.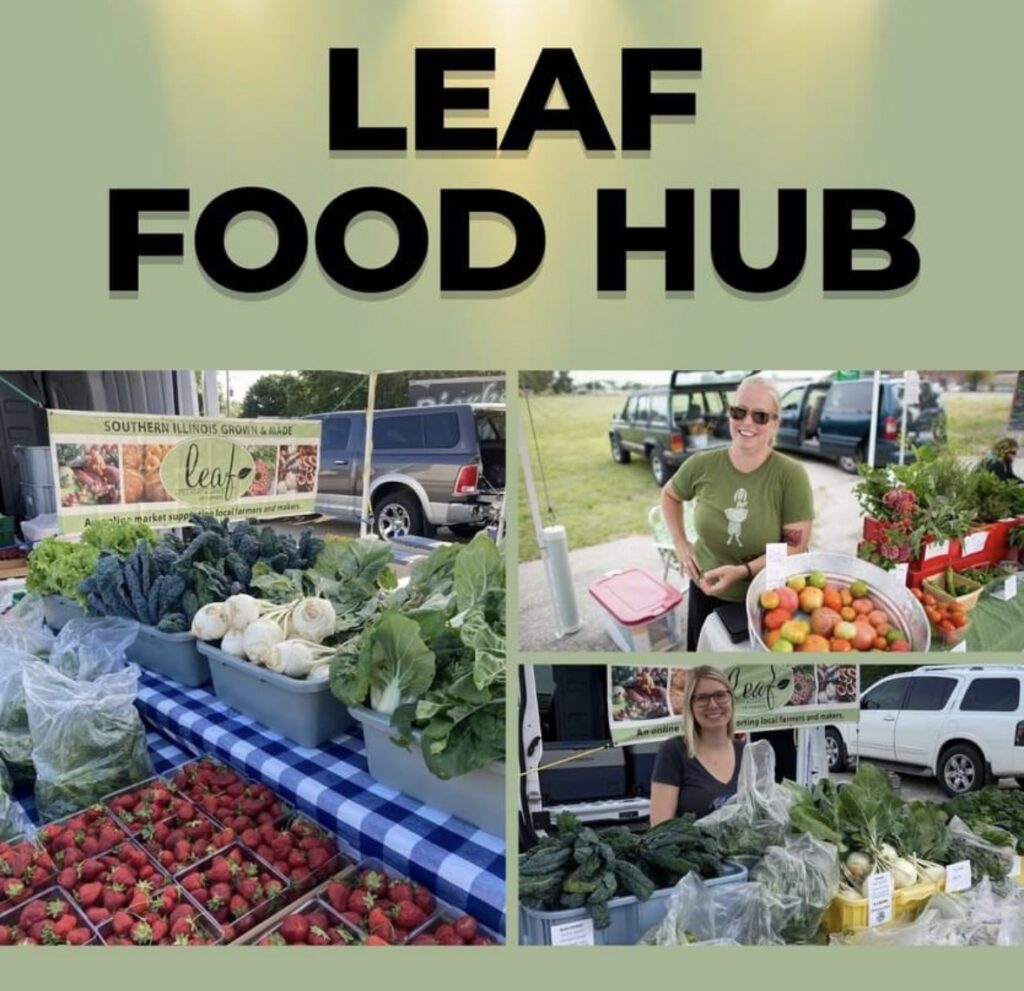 LEAF Food Hub
LEAF (Little Egypt Alliance of Farmers) Food Hub is a shining example of an online farmers market.
LEAF serves six counties in far southern Illinois. It is a broad expanse where many residents lack easy access to healthy, nutritious, locally produced food and where the only local grocery option is a Dollar General store.
LEAF enables consumers to place online orders in any given week. The orders are brought to the drop site chosen by the customer — there are a total of 12 sites — or can pay a fee and have deliveries brought directly to them if they live in some of the region's more populous areas (Carbondale, Makanda, Carterville, Cobden, Herrin and Marion).
Here is how Elicia Moore, operations manager at the food hub, explained the process:
"We have farmers all over Southern Illinois and we also have a couple over in Missouri. We have over 25 vendors now, and we're growing.
"Our customers can shop during our order period, from Friday at noon to Tuesday at 8 p.m. We pack everything up on Thursday afternoons, and then we have people that deliver to the pickup locations. We do offer home delivery in some regions as well; if me or one of the farmers or producers live in that region then we can deliver to that area."
Click here to visit the LEAF website to learn more and to place an order if you live in the Southern Illinois service area.
LEAF Food Hub also tables at the Vine Street Market in O'Fallon, an Illinois suburb of St. Louis.
LEAF Food Hub accepts electronic payments from participants in the federal SNAP/Illinois LINK food assistance programs, and also participates in Link Match, which \doubles the value of Link purchases for additional fresh fruits and vegetables.
LEAF's commitment to food access has also resulted in a collaboration with Food Works, a Carbondale-based nonprofit that is being converted into a 16-foot refrigerated truck into a mobile market.
"People can just shop at the mobile market, like they would at a farmers market," Moore said. "But you can drive the truck anywhere, the truck will be taken all throughout southern Illinois. I think that they're planning on stopping at several locations per day."
She continued, "That's going to be really amazing for our mission and FoodWorks mission to get that healthy food out to the people who need it. We're going to be able to take the food to those small areas that may or may not have a grocery store, just have Dollar General that doesn't have fresh produce or pasture raised meats, things like that."
Moore concluded, "So that is going to be really exciting," a sentiment with which Buy Fresh Buy LocaI Illinois whole-heartedly agrees.
Find Farmers Markets Near You
The following is just a small sample of the hundreds of excellent farmers markets across Illinois. To find more, please click the button below to access the Buy Fresh Buy Local Illinois Directory.
Old Capitol Farmers Market (Springfield)
The Lincoln Park Farmers Market (Chicago)
Urbana Market at the Square (Urbana)
Vine Street Market (O'Fallon)
Woodstock Farmers Market (Woodstock)
Get Listed with Buy Fresh Buy Local Illinois
Are you a farm, farmers market, farm-to-table restaurant, or grocery store that sells local products purchased directly from local farms? Get listed in Illinois' most trusted guide to local food. Your listing is absolutely free. Buy Fresh Buy Local Illinois is a local foods marketing project led by a coalition of organizations across the state working to promote local farms and food businesses like yours. Get listed and start reaching new customers today!