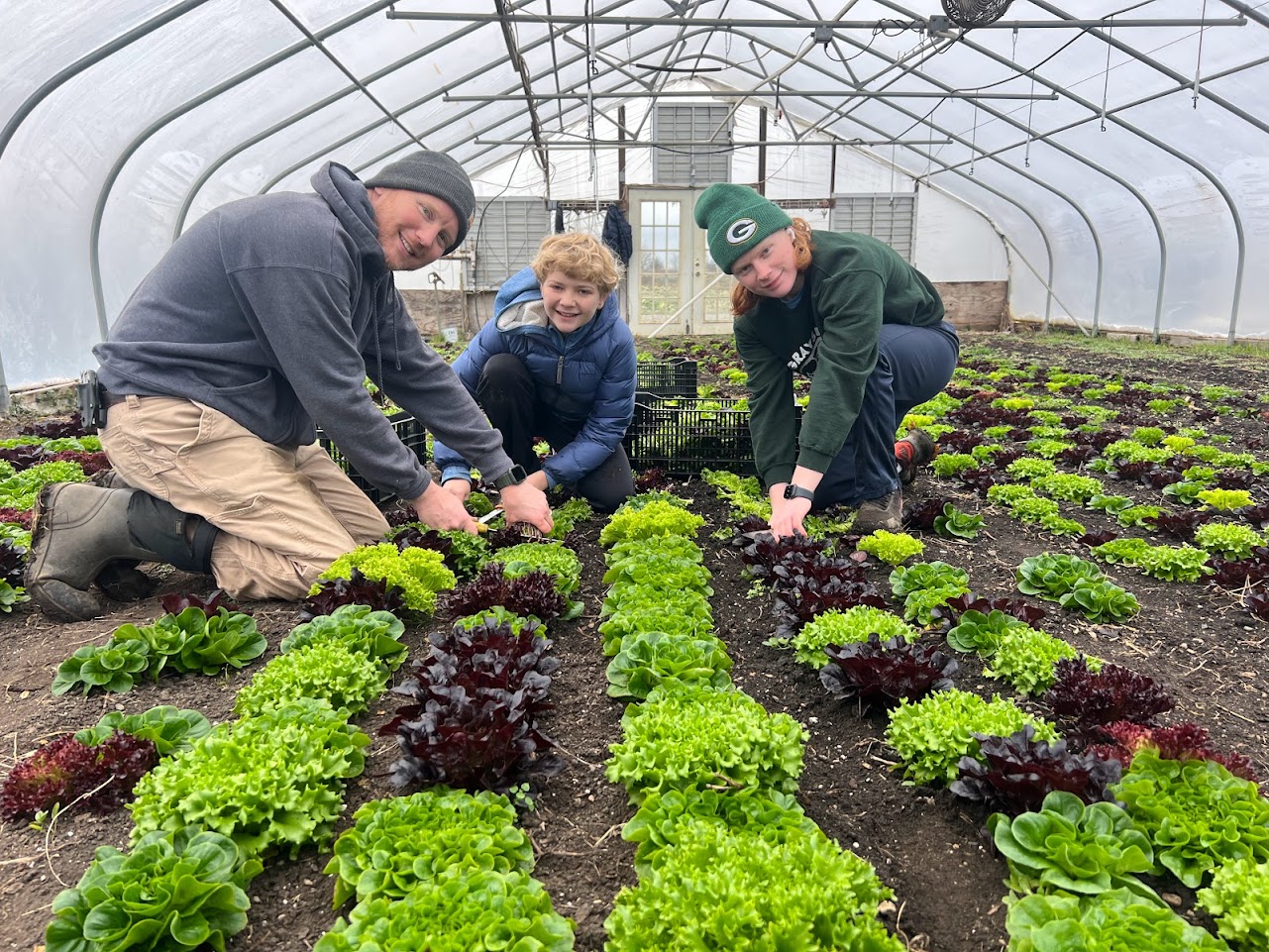 In a Time of Multiple Food Options, CSAs Remain a Vital Part of the Local Food Mix
What is Community Supported Agriculture (CSA)? It is a system in which a farm sells its products by subscription to local consumers, most of whom who purchase prepaid shares in the farm's output that they receive periodically throughout the growing season.
Members of the community buy directly from the farmer, ensuring they will enjoy the products they love while providing the farmers with early-season cash to cover the costs of growing the food. There is no one-size-fits-all CSA as CSAs vary from farm to farm. Many farms offer flexible subscription options and pickup or delivery, adding convenience to the farm's amazing products.
While we think of CSAs as boxes of produce, many farms may offer meats, eggs, artisan grain products, or whatever the farm produces. So, there are CSAs with produce-only shares, egg shares, bread shares, honey shares, and spring and/or fall storage vegetable shares.
Today, there are many options for buying locally produced food, through farmers markets, e-commerce, food co-ops, and grocers adding more local vendors. Yet CSA continues to be an important part of the local food system, and it remains the most personal way to know your farmer and know your food. 
The article below features two of Illinois' thriving CSAs: Prairie Wind Family Farm in Grayslake, which grows and sells produce, and Cedar Valley Sustainable Farm in Ottawa, which is the oldest among a handful of Meat CSAs.
While the farms are different in their offerings, both Jen and Jeff Miller at Prairie Wind and Jody and Beth Osmund of Cedar Valley have this in common: They gave up careers in business offices to raise their then-very young children in a wholesome and nurturing farm environment.
"I have lots of pictures of me watering seedlings with Duncan [their son] in a little sling," said Beth Osmund. "We still run into people in Ottawa every so often who will say it, 'That little one you used to wear all the time at the farmers market, what's he doing now?' And he's almost 21 years old."
Prairie Wind Family Farm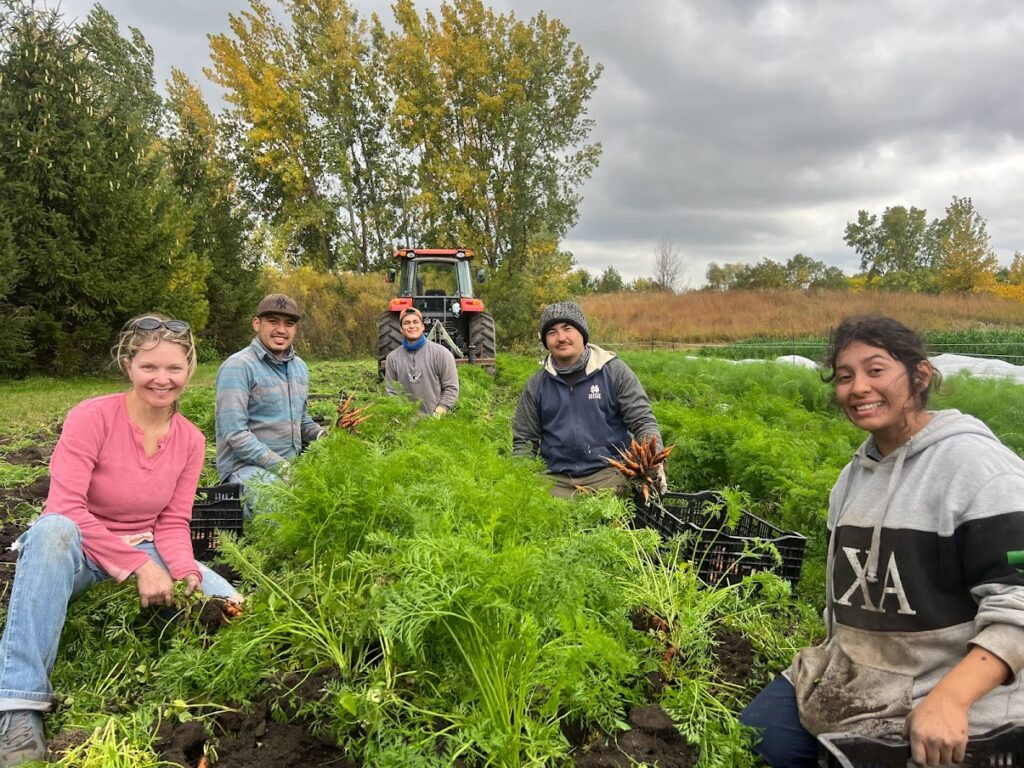 Jen and Jeff Miller grow on 40 acres at Prairie Wind Family Farm in Grayslake, located near Illinois' northeast corner. That is more than 40 times larger than their area in 2005 at the nearby Prairie Crossing Farm Business Development Center, as they transitioned from their first careers in office jobs.
The Millers started their farming lives in earnest with their small farm, Dea Dia Organics in 2006, then six years later merged with Sandhill Organics. Together, the two farming families created Sandhill Family Farms serving a 500-customer CSA. It is no surprise that when they started their own Prairie Wind Family Farm in 2016, their focus was on CSA — and remains so today.
While most produce CSAs provide subscriptions only for the outdoor growing season, Prairie Wind is currently in the midst of their Winter Produce and Winter Eggs CSA programs. The Winter Produce includes frozen vegetables, storage crops and an increasing amount of freshly-grown greens.
Jen Miller said this also is the time when planting decisions are made for the outdoor season, with the goal of providing each subscriber with variety. "The shares are distributed either weekly or every other week," she said, "and they include about eight to 11 different produce items. Then we have a fruit share that goes from mid-June through mid-October, also weekly or every other week, and then we offer pasture-raised eggs every other week as well."
Miller noted that they maintain relationships with other organic farms so they can include products they do not grow, such as sweet corn and mushrooms. The Millers also created a food forest where they are harvesting crops such as elderberries. That enabled them to collaborate on an elderberry beer called, "Livin' on a Prairie" brewed by BubbleHouse Brewing Company in Lisle — owned by Jeff Miller's brother Jon.
Prairie Wind has a far-flung customer base across northeast Illinois, from Grayslake south to Oak Park, 50 miles away in Chicago's western suburbs. Jen Miller said they have 11 drop sites to maximize convenience for customers to pick up their CSA shares.
Customers can also pick up their shares at the farm, a boon to the large number of subscribers who live right in Prairie Crossing, a renowned conservation community. And visitors can shop at the farm's store, a mini-farmers market that carries products not only from Prairie Wind but from other farms across Chicago region.
Cedar Valley Sustainable Farm
Jody Osmund grew up on his parents' diversified farm — produce, grain and livestock — in Ottawa, located in east-central Illinois. He and wife Beth had established careers in the corporate world, Jody in insurance and Beth working for a major accounting firm, but they had been mulling a less urban lifestyle after starting a family.
Then, a couple of decades ago, two things happened that changed their lives, and led to what would become the first Meat CSA in Illinois. The firm for which Beth worked failed suddenly. At the same time, Jody's parents pulled a piece of property they had been trying to sell off the market and offered it to the couple if they wanted to start a farm.
They did so in 2003, at first creating a produce CSA and then transitioning to raising livestock with sustainable practices. They built a loyal clientele because their beef, chicken, pork and lamb was delicious, and because they practiced the kind of sustainable and humane farming more and more consumers wanted.
And they have maintained that loyalty by providing a menu of flexible options. "If the member is unable to pick up their share, they don't lose the value of that work," Jody Osmund said. "They can skip the share, pick it up at another time or a different location. If they skip a share, we just tack on another month to the duration of their subscription."
He added that the flexibility extends to the types of meat that go into a share: "If we have a member who doesn't eat pork, we are willing to make his share pork-free. This doesn't change the value, just the mix of cuts. For example, you get additional beef and chicken and lamb in a no-pork share. We also have people who get no beef. Occasionally, we'll have a request, 'Can I get an all-chicken share?' And they'll get the full value of the share in chicken."
The flexibility extends to subscription length. There are Investing Shares, in which a purchaser pays upfront for a three-month, six-month or 12-month subscription. Then there are Monthly Memberships, and there are smaller, affordably priced one-off Discovery Packages.
Though subscribers close to Ottawa can pick up subscriptions at the farm, Cedar Valley's customer base is heavily concentrated in metro Chicago. They have six drop sites and most of them are at craft breweries — which puts a delightful twist on "burger and a beer."
Find CSAs Near You
All Seasons Farm, Cobden (South)
Broadview Farm and Garden, Marengo (North Central)
Henry's Farm, Congerville (Central)
Mint Creek Farm, Cabery (East Central)
Roots and Wings Farm & Garden, Rockford (North Central)
Get Listed with Buy Fresh Buy Local Illinois
Are you a farm, farmers market, farm-to-table restaurant, or grocery store that sells local products purchased directly from local farms? Get listed in Illinois' most trusted guide to local food. Your listing is absolutely free. Buy Fresh Buy Local Illinois is a local foods marketing project led by a coalition of organizations across the state working to promote local farms and food businesses like yours. Get listed and start reaching new customers today!
Get Listed for FREE with BFBL today
This story is written by Bob Benenson of Local Food Forum on behalf of the Buy Fresh Buy Local Illinois Coalition.