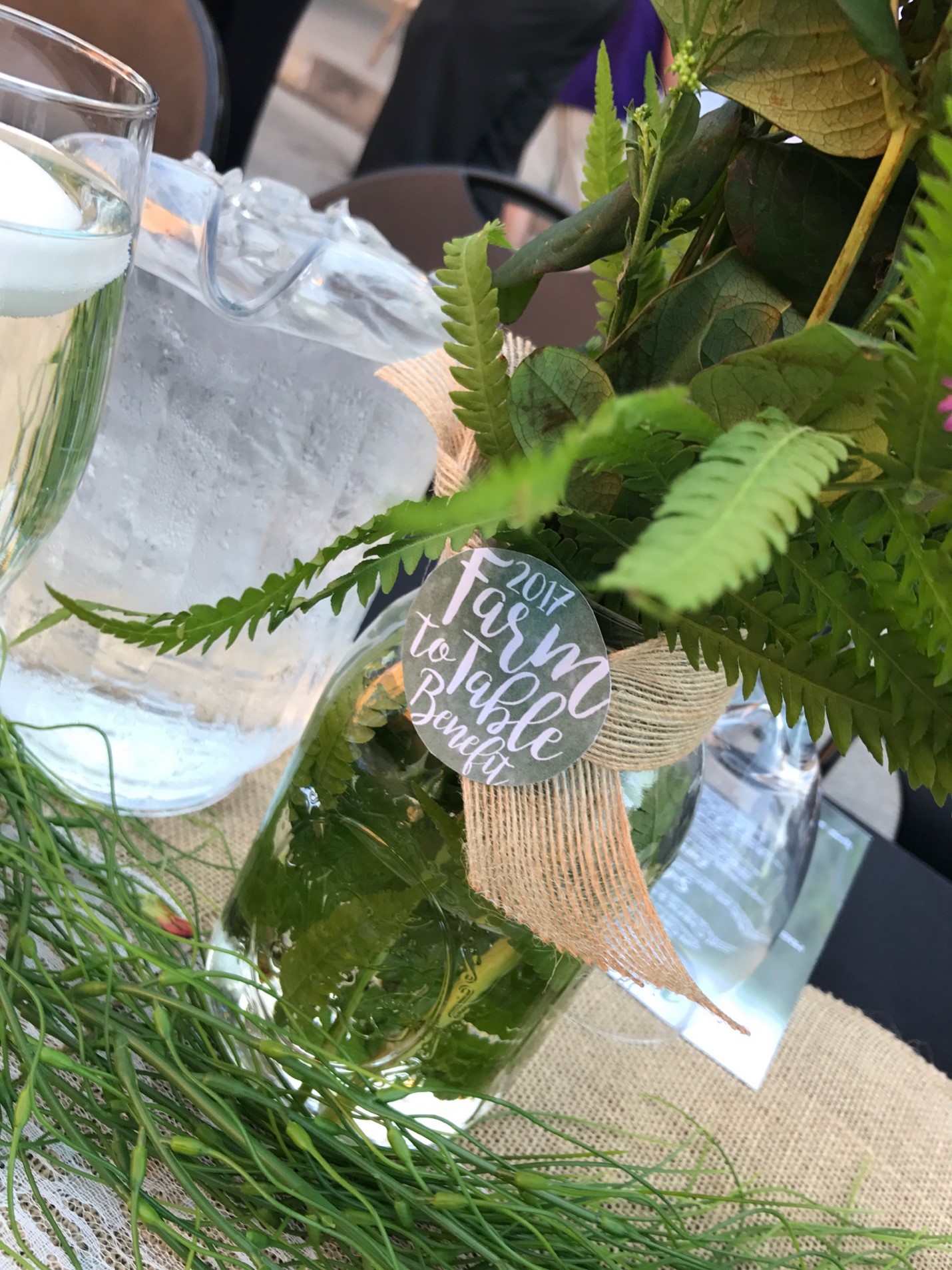 Farm-to-Table Dining: Feed Your Soul, Support Your Local Producers
For generations, most restaurants have obtained the ingredients for the meals they serve their customers from wholesalers and distributors, and more often than not, those ingredients had traveled hundreds if not thousands of miles to get to diners' plates.
But over the past few decades, a growing segment of the chef/restaurant community has emphasized sourcing from farms close to home, citing the freshness, quality and variety of ingredients available and the benefits of a stronger and more localized farm economy. This trend today is encapsulated in the term "farm-to-table."
There is no question that some of our most famous big-city chefs helped popularize the farm-to-table concept. Chicago celebrities such as Rick Bayless of the Frontera Restaurant Group and Paul Kahan of the One Off Hospitality Group making farm-to-table a household term.
Local sourcing is also paramount at many restaurants in smaller cities that are even closer to the farms. One of these is Magnolia's in the western Illinois city of Macomb, which has become a local institution because of chef/owner Lisa Ward's delicious, Southern-rooted cooking, hospitality and dedication to promoting local farms.
Magnolia's of Macomb: A Southern-Accented Farm-to-Table Legend
Lisa Ward of the award-winning Magnolia's in Macomb, Illinois is one of many Illinois restaurateurs who have a farm-to-table focus, delighting guests with delicious, super-fresh, sustainably produced ingredients sourced from their immediate area and region. But Ward goes more than the extra mile in supporting her local farm community.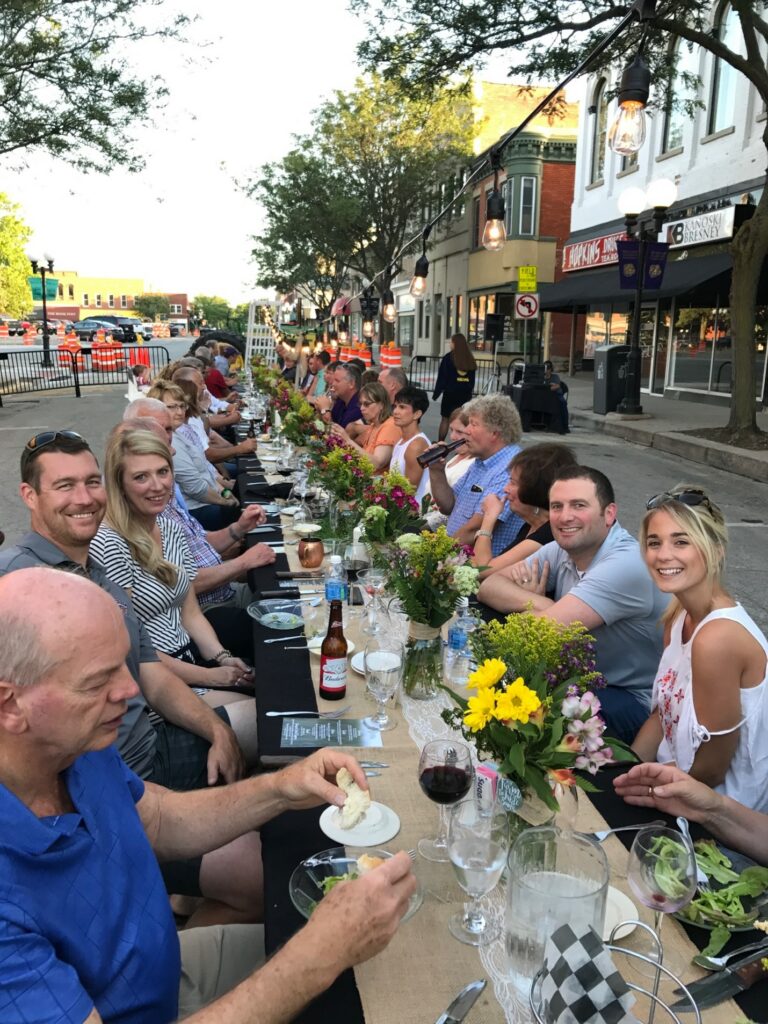 From 2017 to 2019, she produced a series of three dinners to raise money for the Future Farmers of America (FFA) programs at area schools. A full block in downtown Macomb was cordoned off (with tractors), and diners feasted on local meat and produce while seated at a long farmhouse table. Combined, the dinners raised $20,000 for the FFA programs, which are designed to encourage young people to pursue lives in farming.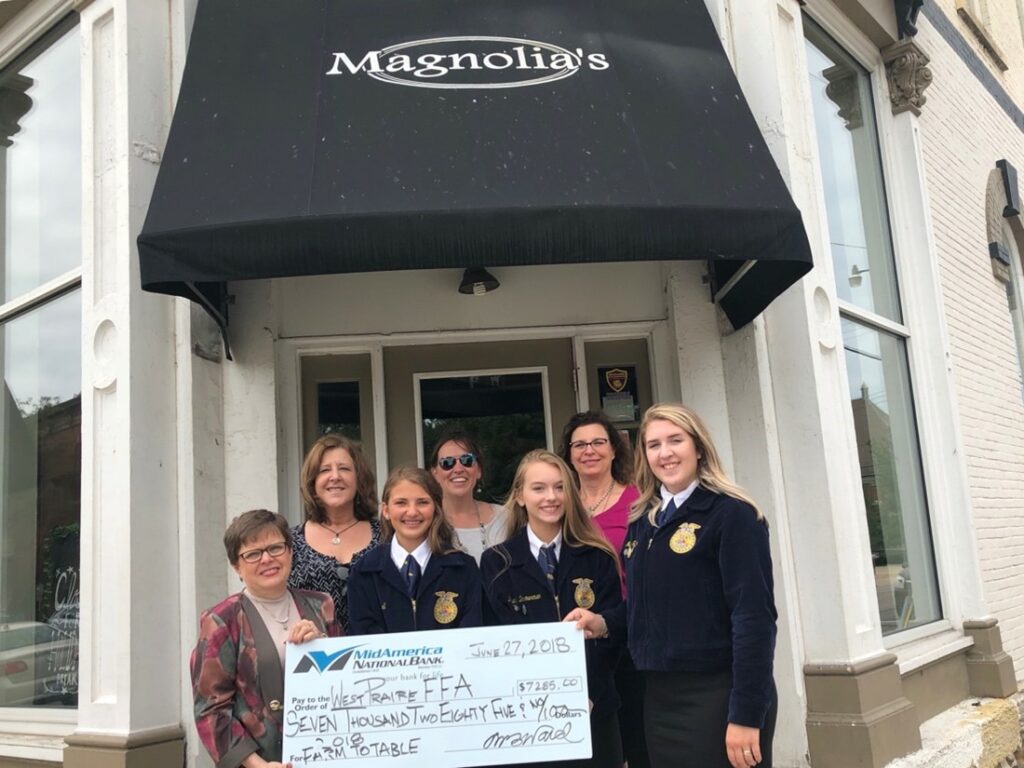 The COVID-19 pandemic prevented Magnolia's from repeating the dinners. She has, however, donated dinners for Western Illinois University's Purple and Gold Auction and other charitable activities.
Ward has a deep well of gratitude to farmers — especially those who befriended her when she was new in town and helped steer her toward the farm-to-table emphasis that has made Magnolia's such a gem in Macomb, a city of about 17,000 residents best known as home to Western Illinois University.
Ward, who grew up in Birmingham, Alabama and attended University of Alabama, says, "We think Alabama has Southern hospitality, but the Midwest farmer is probably the kindest person I've met in my life."
After a colorful life journey (keep reading because it's a doozy), Ward moved from northwest Indiana, near Chicago, to her husband's hometown of Macomb, where he bought the college bar in which he once worked.
While the bar gained popularity and became a night club, Ward says she initially struggled to find a job in Macomb, "So I rolled the dice and opened a small catering company first, then went to a bigger brick & mortar," armed only with her passion for cooking influenced by her Southern roots (she did not have prior culinary training) and extensive restaurant work that including serving, bartending and managing.
She says she owes her success to her husband for sharing his knowledge about what the local folks liked to eat and how they liked to dine.
The couple lived in the countryside, where they befriended Steve and Julie Terstriep and their extended family who grow beef cattle and crops in the village of Industry. The Terstrieps helped Ward recalibrate her focus to farm-to-table 15 years ago.
"Once the Terstrieps turned me, I was all over it," she says. "And I can advocate at every one of my tables and every person that comes in the door."
Preaching the Local Food Gospel
Ward says she has long been aware that there are eaters who need to be educated about the advantages of locally produced food, especially when that food has a somewhat higher price point than conventionally produced food.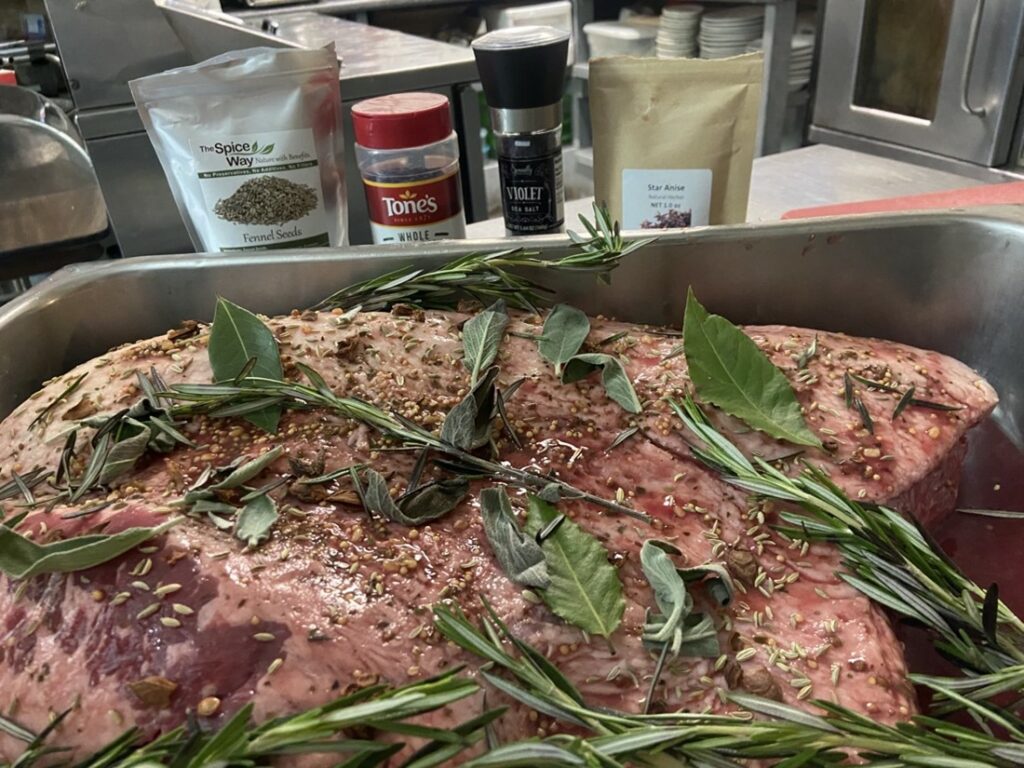 "It's about supporting local farmers, and it's about getting the word out to the city folk," Ward says. She notes that people walk through the farmers market and see a steak priced at $12 a pound and might balk when they can get a conventional cut of meat at the grocery store for $9 a pound.
She continued, "You got to get that food in their mouth, and they'll be, like, 'Oh, yeah.' I mean, farmers feed America. And that, to me, is more important than just having a meal or raising money, which is pretty cool."
Along with the Terstrieps, Ward gets beef from Patrick Farms, also of Industry; most of her produce and some lamb from Maryjo and Grover Decounter of Good Hope Gardens in the town of the same name (who Ward describes as "family, and I mean family"); honey from Pleasant View Farm of Roseville; heirloom tomatoes from Phelps Farm in Plymouth; mushrooms from Pleasant Plains; and lettuce and microgreens from John Greenwood, who manages the Macomb Farmers Market.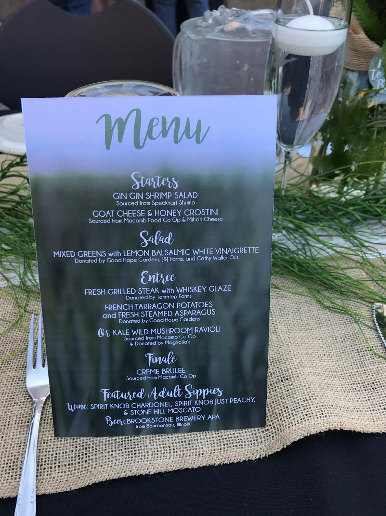 A Long and Winding Road
In a sense, a horse got Ward into the hospitality business, a hurricane blew her into Chicago, and love took her to Macomb.
The restaurant world has been her life since she was a teenager in Birmingham in the 1970s. "My brother got a car and I wanted a horse," Ward says, and she got a job at a McDonald's to pay for it. She subsequently worked in a variety of restaurant roles, including server, bartender and manager.
The next big step in her journey took place in 1987, and it is almost of cinematic quality. She was living on a boat in the U.S. Virgin Islands as Hurricane Hugo approached, and was evacuated, destination unknown until she landed at O'Hare Airport in Chicago. There, Ward says, she had a chance encounter with the personnel director at Chicago's high-end Fairmont Hotel, who overheard that she had restaurant experience and recommended she apply for a job.
Long story short, she worked at the Fairmont, where she met a number of celebrities, then moved to Northwest Indiana, worked at a nightclub, met her future husband, and about 30 years ago moved with him to Macomb.
Magnolia's became a local institution even though the restaurant has been open only Thursdays through Saturdays since it started in order for her to maintain her busy catering schedule. Carryout orders by Ward's loyal clientele enabled her to survive the challenges of the COVID crisis, and she helped brighten customers' days by doing cheerful drawings on their carryout bags.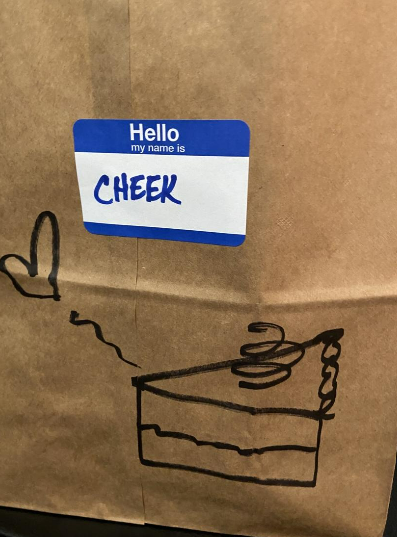 The community reciprocated when the Macomb Area Chamber of Commerce presented Ward with its 2020 Business of the Year Award, stating Magnolia's "creatively rose to the occasion to serve the community safely and keep spirits high with delicious meals and a passion for their customers." A few months later, the city of Macomb marked Magnolia's 25th anniversary by presenting it with a Legacy Award.
How to Dine with Magnolia's
Magnolia's restaurant is located at 130 N. Lafayette Street in downtown Macomb, and is open Thursdays through Saturdays from 5 p.m. to midnight. Owner Lisa Ward's catering business, also called Magnolia's, operates year-round and can be contacted by phone at 309-833-2725 or by email at magnolia@macomb.com.
Find Farm-to-Table Restaurants Near You
Edge by Chef Dustin Allen, Peoria Heights (Central)
Epiphany Farms Restaurant, Bloomington (East Central)
Frontera Grill, Chicago
Peachbarn Winery and Café, Alto Pass (Southern)
The Barn, Springfield (West Central)
The Norwegian, Rockford (North Central)
The Publican, Chicago
Get Listed with Buy Fresh Buy Local Illinois
Are you a farm, farmers market, farm-to-table restaurant, or grocery store that sells local products purchased directly from local farms? Get listed in Illinois' most trusted guide to local food. Your listing is absolutely free. Buy Fresh Buy Local Illinois is a local foods marketing project led by a coalition of organizations across the state working to promote local farms and food businesses like yours. Get listed and start reaching new customers today!
This story is written by Bob Benenson of Local Food Forum on behalf of the Buy Fresh Buy Local Illinois Coalition.