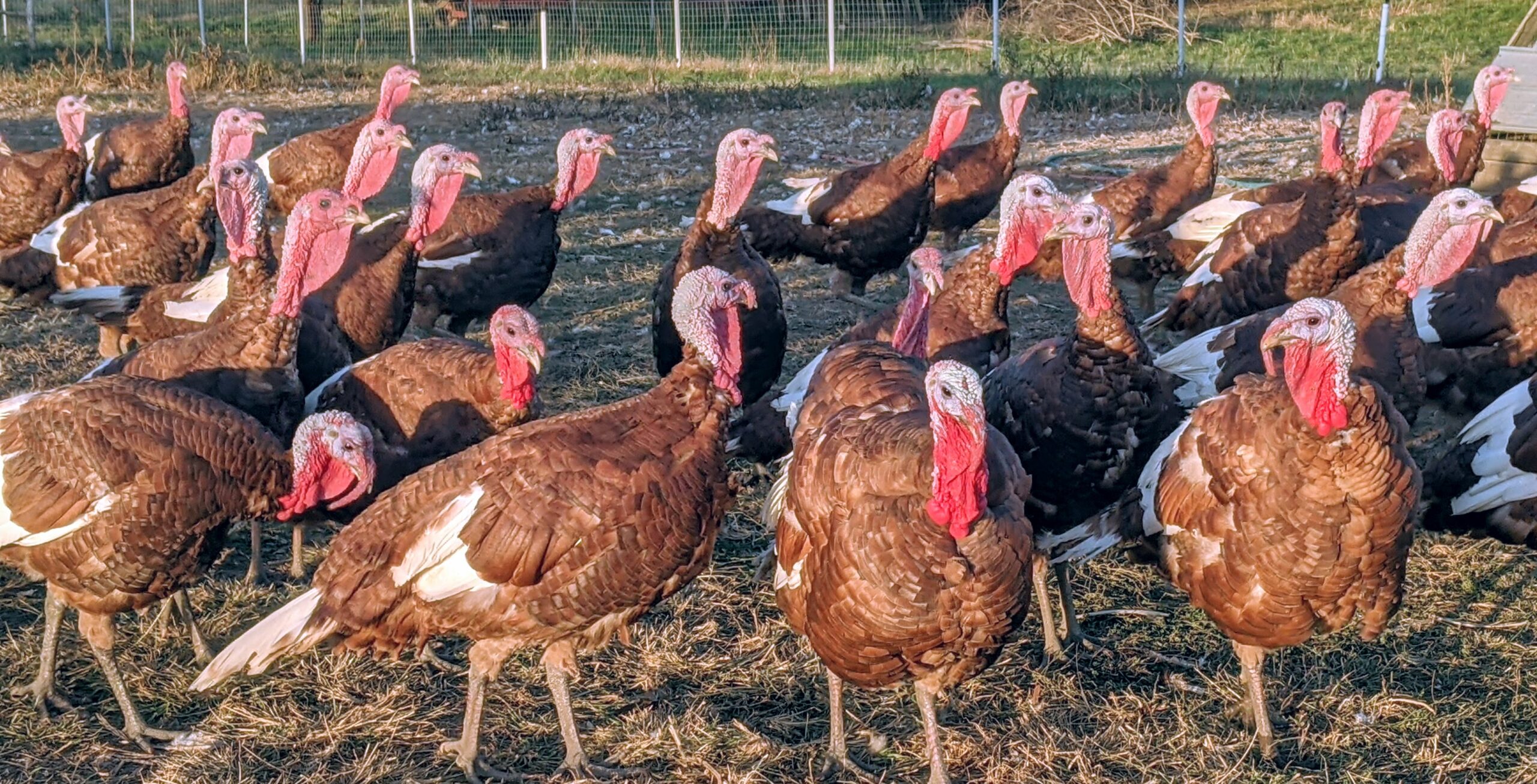 Delight Yourself and Your Guests at Thanksgiving with a Sumptuous, Pasture-Raised Local Turkey
You don't need any hints to figure out why our November article is about locally raised turkeys. Thanksgiving, aka "Turkey Day," is coming up on November 24, and according to the Nielsen consumer research firm, more than three-quarters of all turkeys sold in the United States are purchased in November.
If you want to make your holiday meal special — and wow your guests if you're having company — we strongly recommend that you seek out a turkey raised on pasture by one of our great local farmers.
We've published this article to help you find one. There are relatively few sustainable producers who raise turkeys; given the highly seasonal nature of turkey consumption, most local livestock farmers focus on meat sources (beef, chicken, pork, lamb) that are in demand all year round.
There is also no question that a pasture-raised, small-flock turkey will cost more than the mass-produced birds that you find in most supermarkets. Small farms lack the economies of scale that the big farms enjoy, and slowly raising turkeys on pasture as nature intended is neither easy nor cheap.
But it is very much worth the splurge (after all, for most buyers, it's a once-a-year purchase). The flavor of a pasture-raised bird is so much richer and more satisfying than that of conventionally raised birds. And it's a great way to say thanks to the farmers who work every day to build a better food system and a stronger local economy.
We invite you to utilize the Buy Fresh Buy Local Illinois Directory to locate turkey farms in your area.
Now please read on and learn more from John Caveny of Caveny Farm and Harry Carr of Mint Creek Farm, who are not only among our state's leading local turkey producers, but pioneers in sustainable livestock production.
Caveny Farm's Turkeys are Beautiful (No, Really)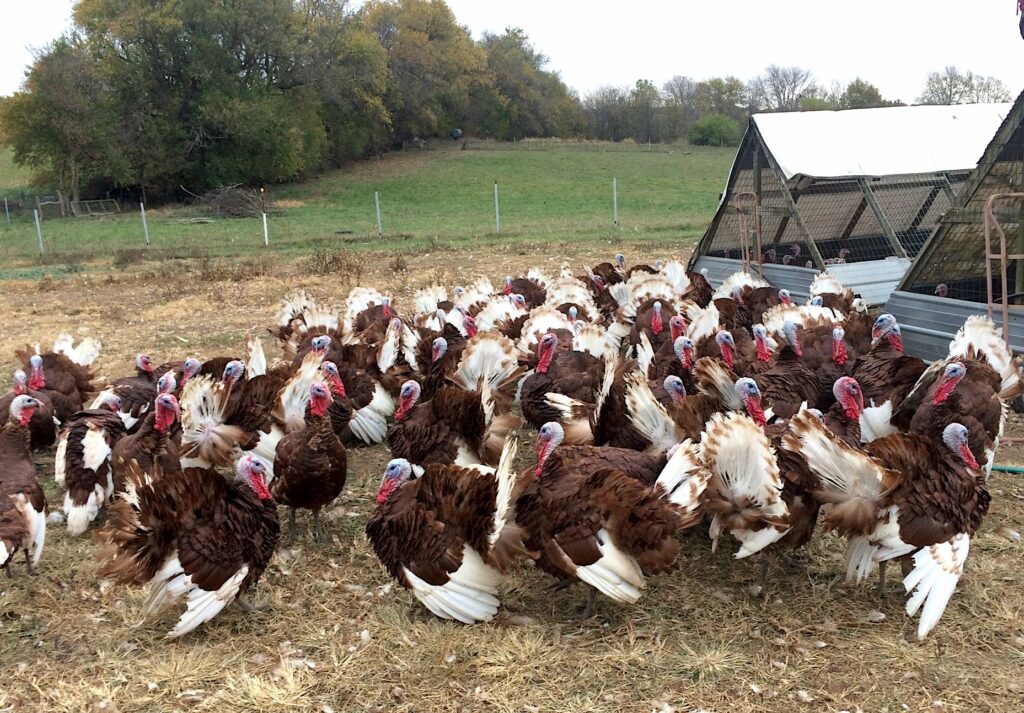 Turkeys aren't likely to win any avian beauty contests. Yet the Bourbon Red breed — with its reddish-brown coloration — is really a pretty handsome bird. It has also been the breed of choice for John Caveny and his family at Caveny Farm in Monticello, located about halfway between Champaign and Decatur in central Illinois.
John Caveny had already been farming for many years when he became attracted to the Slow Food movement, originated in Italy, that promotes the preservation of local food cultures and heritage/heirloom varieties of livestock and plants. The organization was seeking farmers interested in raising heritage breeds of turkeys such as the Bourbon Red, and Caveny Farm took up the challenge.
As Caveny explained, "Bourbon Reds were the most commonly eaten turkey in the United States before the broad-breasted turkeys came about. They're just a perfect size. The hens are going to dress at between eight and 10 pounds, the toms still dress out between 14 and 18 pounds." He noted that there also is a much closer weight relationship between the breast and dark meat than with the broad-breasted birds that are standard in the commercial market.
It takes a lot of TLC to get these birds ready for market in time for Thanksgiving. The cycle starts in early spring when the young poults are initially raised indoors. Caveny said that by May, they are ready to live on grass, where they remain for the rest of their lives. "They've got a lot of connective tissue, they've got a lot of muscle that is in good condition off the legs and the wings," said Caveny, who noted that "these turkeys have been running around for six months of their life."
Yet even for the most dedicated supporter of local and sustainable food, it has to taste good. And Caveny said that is the clincher when it comes to the Bourbon Reds.
"We take pride in the fact that our turkeys do have fat because it adds to flavor," Caveny said. "Our turkeys have a fine textured meat, they don't soak up water, and they do have fat."
Caveny conceded that "the [turkey] products that are commonly eaten are a whole lot cheaper to produce," and that for some consumers, the first reaction to the price of one of his pasture-raised birds might be sticker shock.
But even if it's just a once-a-year indulgence, Caveny said the value is very much worth it. "The combination of the quality of the meat, the flavor of the meat and the flavor of the fat, that's why you get an enjoyable eating experience by eating one of these Bourbon Red turkeys," he said, adding, "Especially the ones that are raised by us."
Caveny Farm is 35 years old this year, and John Caveny and his wife Connie are gradually moving toward retirement. But his legacy of Good Food farming is being carried on by their children. They have started to transition operation of the farm to daughter Betsy Barnick and her family. Emily Heaton, their other daughter, is a professor of crop sciences and director of the Illinois Regenerative Agriculture Initiative at the University of Illinois' Urbana-Champaign flagship campus.
Caveny Farm turkeys can be purchased online at Caveny Farm's website. Purchases can be picked up at the farm or shipped for an additional fee. The farm will also hold a turkey pickup day on Saturday, November 19 in Chicago at House of Glunz, a spirits and wine shop attached to a historic tavern in the Old Town neighborhood. Caveny Farm also sells lamb from the Katahdin breed of sheep.
Bringing the Noise at Mint Creek Farm
A bumpy ride across a broad field at Mint Creek Farm in Cabery brought me to the paddock where this year's turkey flock was grazing in the grass. And if you visit a turkey farm, one thing you'll learn quickly is that the birds can be surprisingly noisy. It's not just that they keep up a steady chatter. At frequent intervals, as if on cue, the entire flock vocalizes with loud gobbling for several seconds, often requiring the human conversation to cease briefly.
I haven't done the research yet to find out what that is all about. When asked if he knows, Harry Carr — who owns Mint Creek Farm with his wife Gwen — said, "So are you asking me to translate turkey language?"
Neither of the Carrs was born into farming. Harry was a self-taught entrepreneur with expertise in the field of biodynamics. Gwen was an artist and teacher. But they shared a love of the land and a desire to restore Illinois' native prairie. They launched Mint Creek Farm — located about 25 miles west-southwest of Kankakee in east-central Illinois — as their experiment in organic livestock farming about 30 years ago.
The Carrs practice rotational grazing, and during our visit, the paddocks for their sheep and goats were located nearly adjacent to the turkey pen. Mint Creek also produces beef, pork, chicken and eggs. And because they for years have had a major presence at some of the largest Chicago-area farmers markets, they have played an important role in educating consumers that meat from pasture-raised animals is produced more sustainably— and just tastes better.
The breeds of choice at Mint Creek Farm are Black Spanish and Broad-Breasted Bronze (the latter have feathers that appear iridescent with a bronze hue). The hens' feathers usually are all black. The toms have a fantail that often has some white color mixed in. The hens generally max out at about 15 pounds; long-lived toms can get as big as 40 pounds.
Carr said the farm used to raise the turkeys from poult to adult, but in more recent years has worked with an Amish farmer who handles the young turkeys during their indoor phase. The birds are then moved to Mint Creek Farm when they are ready to go out on pasture.
While Mint Creek does raise other poultry, Carr said turkeys are more perfectly suited for raising in Illinois. While domesticated chickens descended from jungle birds, turkeys thrive on prairie. "They can handle the rougher weather better than the chickens," Carr said "They get a lot more feed value from the pasture in the prairie than what the chickens would. So you are feeding the chickens a lot more grain than you are the turkeys."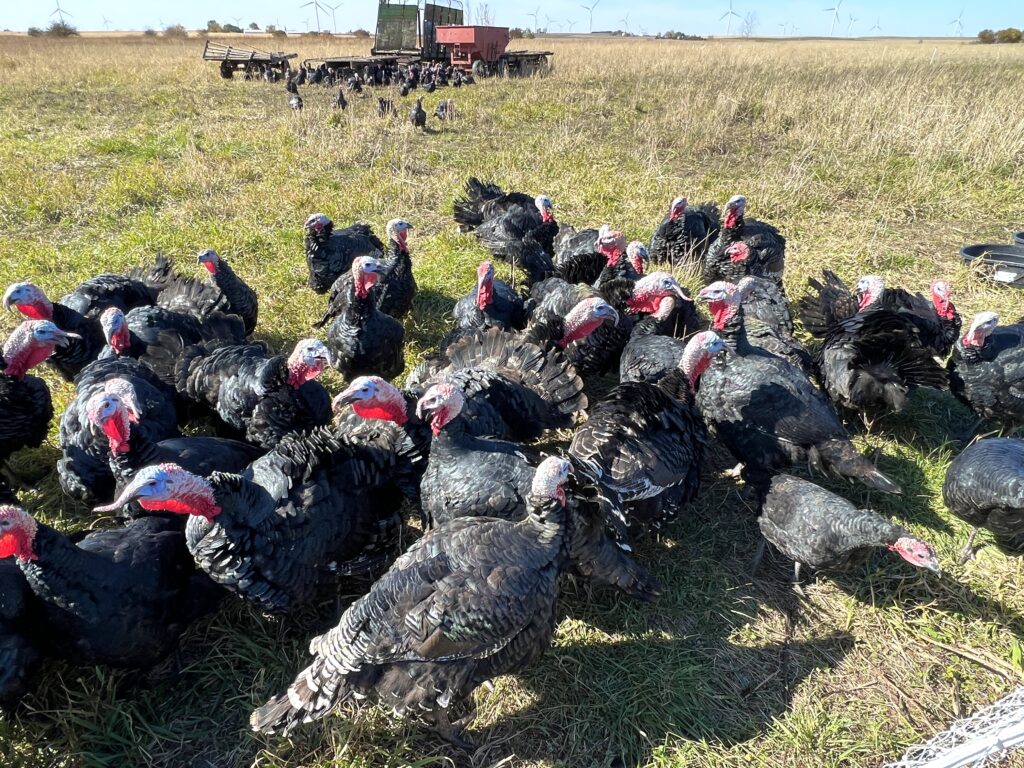 The turkeys spend most of their lives feasting on grass and insects in the fields. Their diets are supplemented with a custom blend of organic grain that includes red winter wheat and winter rye.
Running a small farm is always hard work, and it has been particularly so because of the widespread labor shortages that were one of the outcomes of the COVID-19 pandemic; Carr said he has been working seven days a week this year. But Carr, while not completely immune to the current cycle of inflation, is somewhat insulated because his way of farming doesn't require massive amount of grain for feed or chemical inputs.
"Pasture-raising turkeys is accepting the gifts nature gives to us, while what the birds give back makes great fertilizer for future growth," Carr said.
Like the Cavenys, the Carrs have inculcated their regenerative farming values in their next generation. Daughter Raya, described on the farm's website as "shepherdess," is events and projects coordinator; she is also employed as relationship manager by Iroquois Valley Farmland, an Illinois company that invests in existing farmland and works with family farmers to transition the land to organic and regenerative practices.
You can purchase a turkey from Mint Creek Farm on their website. The farm does home deliveries on Wednesday of each week.
Find Turkey Farms Near You
All Grass Farms, Dundee (Northeast)
DuChick Ranch, Cissna Park (East Central)
The Flock Farm, Anna (South)
Timberfeast, Chatsworth (Central)
Triple S Farm, Stewardson (Southeast)
Get Listed with Buy Fresh Buy Local Illinois
Are you a farm, farmers market, farm-to-table restaurant, or grocery store that sells local products purchased directly from local farms? Get listed in Illinois' most trusted guide to local food. Your listing is absolutely free. Buy Fresh Buy Local Illinois is a local foods marketing project led by a coalition of organizations across the state working to promote local farms and food businesses like yours. Get listed and start reaching new customers today!
This story is written by Bob Benenson of Local Food Forum on behalf of the Buy Fresh Buy Local Illinois Coalition.