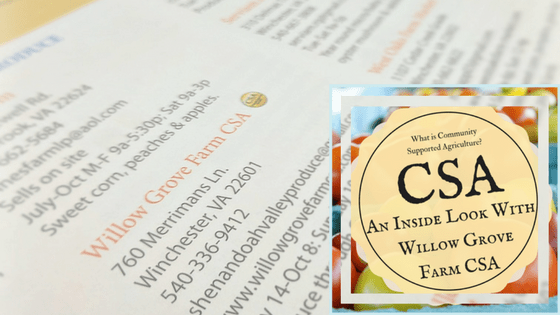 What is Community Supported Agriculture?
Willow Grove Farm CSA in Winchester, VA is one of many small farms changing the way farmers and consumers interact in a big way. Following the Community Supported Agriculture (CSA) model, Willow Grove Farm offers consumers the chance to experience the farm, and enjoy seasonal produce throughout the farming season. Owner Mike Smith took the time to meet with us and share more about what a practicing organic CSA farm in the Northern Shenandoah Valley looks like.
---
What exactly is Community Supported Agriculture (CSA)?
Those that purchase a CSA farm share or subscription support the farmer up front. These early buy-ins of a seasonal subscriptoin serve as an investment to the farm and help to cover planting and operating costs throughout the growing season. The CSA revenues allow the farmer to focus on what matters most: producing high quality food for you and your family and community. Together with other community members as "share-holders", you share in the risks and benefits of the farm's crops. Farmers are able to offer a number of shares to the public for the growing season based on past experience. In exchange, members receive a season long share (usually weekly) of the farm's harvest, and the chance to build a relationship with their local farmer. As an appreciation for early CSA subscriptions, the farmer will provide CSA members with a bag (box, basket, etc.) of the week's harvest.
---
Farmer Mike prepares a re-usable CSA farm share bag
Members of Willow Grove Farm CSA look forward to picking up four to seven varieties of fresh organically grown produce every Sunday. From 10am to 1pm Mike opens up a road side farm stand off of Merrimans Lane (just minutes from downtown Winchester) to facilitate share pick-ups and on the spot sales. Produce, eggs, and herbs can also be purchased at the farm stand on Sundays by community members who are not a part of Mike's weekly CSA. As summer turns to fall, CSA members and visitors of the farm stand have several items to look forward to:
Farmer Mike inspects a lush head of lettuce
Zucchini and Squash
Peaches from Fruit Hill Orchard
Eggs from Bethlehem Farm
Heirloom Tomatoes
Cherry Tomatoes
Bell Peppers
Carrots
Lettuce
Swiss Chard
Kale
Cabbage
Spinach
Cilantro
Basil
Beets
Garlic
Shallots
Radishes
Turnips
Bulbed Onions
Spring Onions
Broccoli
Peas
Green Beans
Potatoes
Sweet Potatoes
Sweet Corn
Farmer Mike browses a crop of organically grown sweet corn
Over the course of the 22-week CSA season, members enjoy over 50 varieties of produce and herbs, including items like seedless watermelon, heirloom tomatoes, eggplant, shallots, and much more. Mike's 2017 growing season runs from May 14th to October 8th. Currently, Willow Grove's CSA farm shares are enjoyed by 50 family-sized shares.
However, Mike shared that he will be adding 25 additional shares to the 2018 CSA season, for a 22 week 75 person CSA. He hopes to one day accommodate a 200 person CSA.
Every CSA operates differently. The members of Mike's CSA have found that it is easiest to pick up their produce from his farm on Sundays. Other CSAs have opted for home, or work delivery, given the close proximity of members. Some CSAs might choose a convenient share drop-off location and time. Other CSAs may skip weeks, or offer small or mid-sized shares based on their members needs. If a CSA member is unable to pick up their share during a designated time, many farmers (like Mike!) are open to friends or family stopping by to collect weekly items. The Community Supported Agriculture model thrives off of collaboration and flexibility.
Mike shared, "I do a newsletter every week and it gives them an idea of what will be in the share that week, and what simple healthy recipes they can use with the items. I try to share more about the items and how they were grown. I always make sure to cite my sources. This extra step lets them see the true value in the CSA and what we're doing out here."
Mike appreciates the chance to break away from conventional farming in exchange for a CSA model that allows him to easily build relationships with community members. In addition to supplying a weekly share of fresh local produce, he also takes time to connect with his members.
Quote from Willow Grove Farm CSA owner, Mike Smith
Mike strives to provide a fair share of the week's harvest to each member and looks forward to expanding each member's food palate. Every CSA member and their family have their own favorites, so Mike tries to expose them to varieties of the vegetables they like the most. Each variation of carrots, potatoes, or tomatoes brings its own fun fact. Mike feels that this way of changing things up helps to give his members a greater appreciation of their weekly share, and an incentive to keep trying new things.
A sample of the many varieties of potatoes and tomatoes offered by Willow Grove Farm CSA
If you are interested in learning more about Willow Grove Farm or joining the CSA, contact farmer Mike Smith via willowgrovefarmcsa@gmail.com, follow their Facebook page, or visit www.willowgrovefarmcsa.com/become-a-member. Before we left the farm, we asked Mike when he might begin accepting members for the 2018 season: his answer was "Today!"
Instagram: #SweetPotatoMike
---
In summary, every Community Supported Agriculture (CSA) farm share or subscription is unique. Farm shares vary in featured items, size, and regularity. CSAs are perfect for parents or individuals on the go who want to enjoy farm fresh items, but would rather avoid weekly hectic shopping trips. Members can embrace the fact that they are supporting a local farm and family, while simultaneously alleviating any hassles of maintaining their own garden. By joining a local CSA, you have the chance to support the local food movement while building a relationship with a local farmer based on mutual respect.