About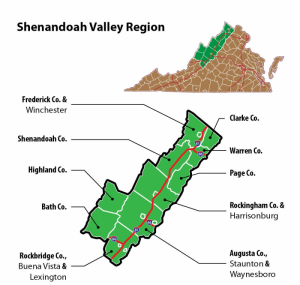 Buy Fresh Buy Local Shenandoah Valley supports local farms, retailers, restaurants and food businesses by promoting local farm and food products to consumers.
The Shenandoah Valley is rich in agricultural roots, resiliency, and a local food community.
Our mission is to promote local food and farms, give greater visibility to Valley agriculture and make it possible for individuals, families, institutions and businesses in the Shenandoah Valley area to find and enjoy more locally grown food.
Finding Local Food
Through our work we aim to improve agricultural viability in the Shenandoah Valley region and increase consumer awareness of the social value and economic importance of supporting the local food system and community.
Buy Fresh Buy Local connects citizens to the Shenandoah Valley's freshest and most delicious locally grown and produced food. Through outreach materials, advertisements and point of purchase materials, we make it easy for citizens to find and buy fresh, local food.
There are lots of great reasons to Buy Fresh Buy Local:
Locally grown and produced foods from Shenandoah Valley are fresh, delicious, and abundant.
Buying local supports the Shenandoah Valley economy and our family farms.
Buying locally grown and produced foods allows you to choose food from farmers you can know and trust.
Buying local is easy.
What You'll Find
Farms & Producers
The family farms and orchards featured in this guide are producing fresh healthy food in ways that benefit the community and the environment.
Farmers' Markets
Farmers' markets have the freshest foods and greatest seasonal variety that can be found. Farmers' markets are also the best place to meet a farmer. Each market is different — reflecting the desires of the local community and the farming conditions of the area. They all provide a direct connection between the farmer and the consumer and have the freshest, healthiest food available.
Retailers
These grocers, co-ops, and butchers are committed to buying and featuring locally produced foods. Many of these participating stores are campaign partners and display the Buy Fresh Buy Local logo. Look for this logo at your favorite store and be sure to ask for local food wherever you shop.
Restaurants
These restaurants, bakeries and caterers have made the special effort to connect with local farms to serve the freshest and healthiest food available so you can enjoy the great taste of regional cuisine. Ask for local foods at your next dinner outing or for your next event and eat the freshest foods while supporting local farm families.
Value-Added Producers
Local food isn't just available from the farm. Over the years small businesses focused on processing local farm ingredients into value-added products like jams, jellies, salsas, fermented vegetables, kombucha, breads, etc have become a significant sector of our food system. These value-added producers strive to source local ingredients to use in their products.
Specialty Beverages
From luscious reds and tangy ciders to bubbly brews, our guides have your local beverage sourcing covered.Grapes, apples, hops, and grains grown in Virginia soil are used to produce some of the finest specialty beverages, and these vineyards, cideries, breweries, and distilleries are part of our  Buy Fresh Buy Local program.
How We Work
We bring together farmers, food businesses, organizations, state agencies, and stakeholders across the state to work together to market local food. We're growing a movement!
Who We Are
The Shenandoah Valley Buy Fresh Buy Local Chapter is a program of Virginia Cooperative Extension. Virginia is fortunate to have seven other Buy Fresh Buy Local chapters in regions throughout the state. Click below to go to each chapter's website or visit the Buy Local Virginia website to find a specific farm or product.
Buy Fresh Buy Local Charlottesville (Local Chapter Affiliate Coordinator: Piedmont Environmental Council)
Buy Fresh Buy Local Hampton Roads
Buy Fresh Buy Local Loudoun County (Local Chapter Affiliate Coordinator: Piedmont Environmental Council)
Buy Fresh Buy Local Northern Virginia (Local Chapter Affiliate Coordinator: Inova Health System)
Buy Fresh Buy Local Northern Piedmont (Local Chapter Affiliate Coordinator: Piedmont Environmental Council)
Buy Fresh Buy Local Heart of Virginia
Buy Fresh Buy Local South Centre Corridor (Local Chapter Affiliate Coordinator: RC&D Council)